Women's volleyball splits pair of matches at own invitational
---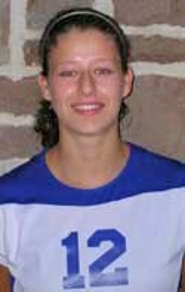 Hamilton College split two matches in its own invitational at Margaret Bundy Scott Field House on Sept. 25.
Hamilton (3-13 overall) swept Regis College in three straight sets (26-24, 25-9, 25-10) and fell in five sets to University of Rochester (16-25, 25-27, 25-19, 25-9, 15-8).
After a close first set against Regis (5-11), the Continentals scored the first six points in the second set. They also opened the third set with an 8-1 lead and cruised to the win. Alex Singh '11 led the way with 11 kills and two blocks. Liz Reid '11 added seven kills. Cecelie Pikus '13 passed out 28 assists. Alyssa Hopper '13 and Ally Martella '13 each served up six aces. Amanda Cohen '13 was credited with four aces and led defensively with 10 digs.
In the match against Rochester (11-5), Martella led Hamilton with a team-high 10 kills. Singh added nine kills and 14 digs. Rachel Irizarry '12 led the defense with 20 digs. Cohen recorded 18 digs and three aces. Pikus passed out 26 assists. Reid and Kristin Stenerson '12 contributed six and three blocks, respectively.
Hamilton continues play in its invitational on Saturday, Sept. 26, when it hosts Gordon College at 11 a.m. and Union College at 3 p.m.