Women's volleyball splits pair of matches
---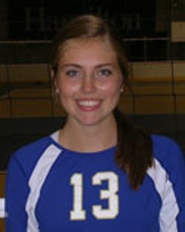 Hamilton College split its first two matches of 2012 at the University of Rochester Invitational at Zornow Court on Sept. 7.

Hamilton (1-1 overall) swept D'Youville College in three sets by scores of 25-15, 25-23 and 25-22. The Continentals were edged by SUNY Oneonta in five sets (25-21, 25-22, 21-25, 20-25, 15-8) in the nightcap.

Against D'Youville (1-4), Brenna Corrigan '14 and Ally Martella '13 posted six kills apiece. Blaire Frett '16 recorded five kills and four blocks in her first collegiate match. Emma Lonadier '15 chipped in four kills and eight assists.

Sarah Pfund '14 led the team with 14 assists and three aces, and added nine digs. Anna Brown '15 paced the defense with 18 digs and Corrigan had 10. Martella and Erin Casey '15 were credited with three blocks apiece.

Against Oneonta (4-2), Corrigan hammered a career-high 17 kills, and Frett notched eight kills and three blocks. Casey helped the defense at the net with three blocks as well.

Amanda Cohen '13 enjoyed a solid match with 11 kills, 14 digs and six aces. Pfund contributed 16 assists and 14 digs, and Brown also finished with 14 digs. Lonadier passed out a team-high 18 assists.

The Continentals take on Medaille College and SUNY New Paltz in Hamilton's final two matches at Rochester on Saturday, Sept. 8.