Women's volleyball splits two matches
---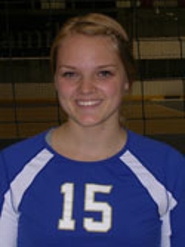 Hamilton College split two matches on the first day of the Victory Promotions Invitational at SUNY Potsdam's Maxcy Hall on Sept. 9.

Hamilton (5-1 overall) cruised to a three-set win against SUNY Plattsburgh by scores of 25-17, 25-22 and 25-19. The victory gave the Continentals their first 5-0 start since the 1996 team won its first seven matches. Hamilton edged Plattsburgh in five sets at the Hamilton Invitational on Sept. 2. Potsdam swept the Continentals later in three sets (25-23, 25-12, 25-21).

Against Plattsburgh (3-4), Megan McCareins '14 posted seven kills and a team-high 12 digs. Meredith Nuber '14 pounded seven kills as well. Cecelie Pikus '13 chipped in four kills and 14 assists.

Sarah Pfund '14 stepped up in place of Emma Lonadier '15 (out with mono), and added 11 assists and three aces. Rachel Irizarry '12 and Amanda Cohen '13 contributed nine and six digs, respectively. Erin Casey '15 and Ally Martella '13 helped lead the defense at the net with three blocks apiece.

Against Potsdam (6-1), Nuber led the way with seven kills and four blocks. McCareins had six kills and nine digs, and Ava Kelley '15 smacked four kills. Pikus was credited with a team-high 14 assists and Pfund added eight. Irizarry served two aces and registered 13 digs.

Hamilton finishes the invitational with two matches at St. Lawrence University on Saturday, Sept. 10. The Continentals take on St. Lawrence at 1 p.m. and wrap up the tournament against Saint Michael's College at 3.