Women's volleyball splits two matches at Hartwick
---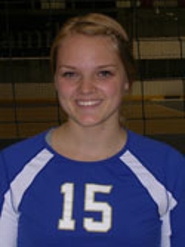 Hamilton College split its first two matches at the 2011 Hartwick College/Holiday Inn Invitational at Hartwick's Lambros Arena on Oct. 14.

Hamilton (11-10 overall) lost in five sets against SUNY Plattsburgh in the early evening match. The Continentals defeated Plattsburgh in five sets at the Hamilton Invitational, and in three sets at SUNY Potsdam's Victory Promotions Invitational in early September. Hamilton swept the host Hawks in three sets in the late match.

The Cardinals (11-12) rallied to defeat the Continentals 21-25, 27-25, 20-25, 28-26 and 15-11. Ally Martella '13 paced Hamilton with 12 kills, five aces and a season-high eight blocks. Meredith Nuber '14 hammered 12 kills and chipped in four blocks.

Megan McCareins '14 posted 11 kills and 16 digs, and Amanda Cohen '13 smacked 10 kills. Sarah Pfund '14 was credited with 24 assists and 14 digs, and Cecelie Pikus '13 passed out 19 assists. Anna Brown '15 led the defense with 24 digs and Rachel Irizarry '12 added 15. Erin Casey '15 provided five blocks.

Against the Hawks (11-15), the Continentals breezed to victory by scores of 25-19, 25-10 and 25-16. McCareins boasted a double-double with 10 kills and 12 digs. Nuber helped lead with 10 kills and four blocks.

Ava Kelley '15 recorded eight kills and two blocks. Pfund registered 16 assists and six digs, while Pikus had 13 assists and seven digs. Brown dug out six hitting attempts.

Hamilton continues with invitational action against Utica College, and then plays in either the consolation or championship match on Saturday, Oct. 15.