Women's volleyball splits two NESCAC matches
---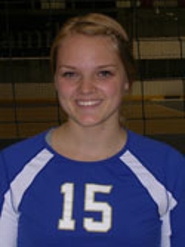 Hamilton College defeated Colby College in four sets at Williams College's Chandler Gym on Oct. 9 for the Continentals' first New England Small College Athletic Conference victory since 2007.

Hamilton (9-8 overall, 1-5 NESCAC) bested Colby by scores of 25-17, 25-12, 21-25 and 25-21. The last conference win for the Continentals came on Oct. 13, 2007, when they defeated Colby and Bates College. Williams defeated Hamilton in three sets (25-23, 25-21, 25-20) in the Continentals' other Saturday match.

Against Colby (5-11, 0-6), Megan McCareins '14 recorded her second straight double-double in kills and digs with 12 each. McCareins also had three blocks. Ally Martella '13 was strong in the middle with 11 kills and five blocks. Meredith Nuber '14 pounded 10 kills and posted a season-high seven blocks.

Brenna Corrigan '14 chipped in eight kills, 12 digs and three blocks. Rachel Irizarry '12 had a team-high 17 digs. Cecelie Pikus '13 was credited with 23 assists and served five aces. Sarah Pfund '14 passed out 15 assists.

Against Williams (15-6, 5-1), Nuber hammered nine kills, and McCareins slammed eight to go with 13 digs. Corrigan registered seven kills, four aces and 11 digs. Martella smacked five kills and Pikus handed out 16 assists.

Hamilton returns home for the first time in more than a month on Tuesday, Oct. 12, when the Continentals play a non-conference match against SUNY Institute of Technology at Margaret Bundy Scott Field House.