Women's volleyball suffers NESCAC losses
---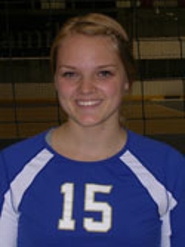 Hamilton College lost a pair of New England Small College Athletic Conference matches at Connecticut College's Luce Field House on Sept. 18.
Hamilton (4-6 overall, 0-3 NESCAC) travels to Green Mountain College for a pair of non-conference matches on Saturday, Sept. 25. Undefeated Conn. College (7-0, 2-0) won in three sets by scores of 25-21, 25-14 and 25-17. Wesleyan University (2-3, 1-1) defeated the Continentals in four sets by scores of 25-10, 19-25, 25-18 and 25-22.
Meredith Nuber '14 paced Hamilton against Conn. College with seven kills, 12 digs and two blocks. Megan McCareins '14 chipped in six kills and seven digs. Ally Martella '13 led the defense with four blocks. Cecelie Pikus '13 had six assists and four aces, and Sarah Pfund '14 passed out seven assists.
Amanda Cohen '13 hammered a team-high seven kills against Wesleyan. Brenna Corrigan '14 posted six kills, 19 digs and three blocks. Nuber added six kills and six blocks. McCareins contributed six kills, three aces and 12 digs. Rachel Irizarry '12 recorded 29 digs and Pikus was credited with 12 assists.