Women's volleyball sweeps pair of matches
---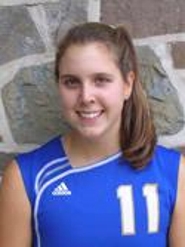 Ally Martella '13 recorded a total of 19 kills in a pair of non-conference victories for Hamilton College at Russell Sage Rink on Sept. 4.
Hamilton (2-0 overall) swept Alfred University and Green Mountain College in three sets. The Continentals defeated Alfred (1-2) by scores of 25-15, 26-24 and 25-12. Hamilton routed Green Mountain (0-3) by scores of 25-8, 25-11 and 25-13.
Martella hammered nine kills against Alfred in the first match of the day. Brenna Corrigan '14 chipped in nine kills, two aces and seven digs in her first collegiate match. Meredith Nuber '14, Sarah Pfund '14 and Amanda Cohen '13 added four kills each. Nuber also blocked two hitting attempts. Alyssa Hopper '13 was credited with 14 assists and Cecelie Pikus '13 passed out 10.
Martella slammed a team-high 10 kills against Green Mountain in the late afternoon match. Nuber put down seven kills and Pfund had five. Megan McCareins '14 registered five kills, four aces and seven digs. Cohen helped the defense with six digs. Hopper handed out 19 assists and a career-high eight aces, and Pikus finished with 11 assists.
The Continentals compete in a tournament at SUNY Potsdam on Friday and Saturday, Sept. 10 and 11. Hamilton takes on Morrisville State College and Buffalo State College on Friday night.