Women's volleyball sweeps Utica in three sets
---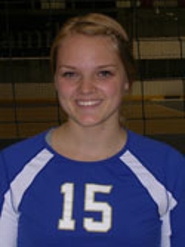 Meredith Nuber '14 pounded 10 kills and added three blocks to lead Hamilton College to a three-set victory against winless Utica College in a non-conference match at Hamilton's Margaret Bundy Scott Field House on Sept. 14.

The Continentals (7-2 overall) won by scores of 25-14, 25-7 and 25-12. Hamilton improved to 5-0 at home, while Utica dropped to 0-7 in 2011.

Nuber entered the match ranked fourth in the NESCAC with a .346 hitting percentage. She posted a .643 hitting percentage against the Pioneers. Brenna Corrigan '14 chipped in six kills and two service aces. Ava Kelley '15 hammered six kills, and Megan McCareins '14 recorded a perfect five kills in five attempts.

Cecelie Pikus '13 and Sarah Pfund '14 were credited with 13 assists apiece, and Pfund added a team-high eight digs. Ally Martella '13 helped lead the defense at the net with three blocks.

Alyssa Nicotera '15 paced Utica with six kills and added seven digs. Kellee Furno '15 passed out seven assists, and Ashley Jones '15 recorded two blocks. Leah Kazalski '14 finished with a team-high eight digs and the Pioneers' lone ace.

Hamilton travels to Connecticut College for a NESCAC match against Tufts University on Friday, Sept. 16.