Women's volleyball swept at home
---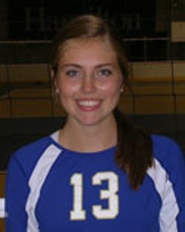 Marissa Weil '13 hammered a match-high 14 kills to lead Ithaca College to a three-set win against Hamilton College in a non-conference match at Hamilton's Margaret Bundy Scott Field House on Sept. 11.

Ithaca (4-1 overall) swept the Continentals by scores of 25-12, 25-19 and 25-23. Hamilton led 23-22 late in the third set, but the Bombers scored the final three points to close out the match.

Christine Flannery '16 chipped in seven kills and 15 digs for the winners. Carly Garone '16 passed out 27 assists and Justine Duryea '14 served three aces. Emily Kovach '16 added nine digs and Abbie Hutchinson '15 led the defense at the net with three blocks.

Brenna Corrigan '14 paced Hamilton (2-3) with 11 kills and eight digs. Blaire Frett '16 recorded five kills and two blocks. Emma Lonadier '15 handed out 13 assists and Sarah Pfund '14 was credited with 12. Ally Martella '13 and Courtney Somerville '16 two posted blocks apiece.

Ithaca cruised in the first set as the Bombers racked up 13 kills and no errors in 30 attack attempts for a .433 attack percentage. The Continentals were playing their first home match of 2012.

Hamilton travels to Bates College for a NESCAC match on Friday, Sept. 14.