Women's volleyball swept by Middlebury
---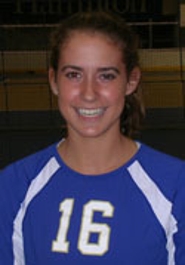 Hamilton College lost in three sets against Middlebury College in a NESCAC match played at Amherst College's LeFrak Gym on Oct. 28.

Hamilton (17-11 overall, 1-8 NESCAC) had its win streak end at seven matches. The Continentals take on Amherst in the regular season finale on Saturday, Oct. 29.

Middlebury (17-7, 6-3) won by scores of 25-16, 27-25 and 25-9. The Panthers have won six of their last seven matches.

Megan McCareins '14 led Hamilton with seven kills and added 12 digs. Meredith Nuber '14 chipped in five kills and two blocks. Ally Martella '13 and Ava Kelley '15 added four kills apiece.

Sarah Pfund '14 was credited with 11 assists and nine digs, and Cecelie Pikus '13 finished with seven assists and eight digs. Anna Brown '15, who was named NESCAC Player of the Week on Monday, led the defense with 15 digs.

The score was knotted at 9-9 in the first set when Middlebury mounted a 10-4 run for a 19-13 advantage. The Panthers closed out the set with two straight service aces.

The teams were deadlocked at 9-9 again to start the second before Hamilton mounted a 9-5 run to take an 18-14 lead. The Panthers finally pulled even at 22-22 on a Continentals' error. Middlebury still trailed 25-24, but secured the final three points for a commanding two-set lead. The Panthers built a comfortable 10-0 lead in the third set, and enjoyed a 20-5 lead late.