Women's volleyball takes two of three at Keuka Invite
---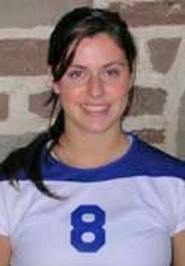 Hamilton College won two out of three matches in the Keuka College Invitational at the Weed Physical Arts Center on Oct. 11.
Hamilton (8-14 overall) defeated SUNY Cobleskill in five sets and Buffalo State College in four. The Continentals were swept in three sets by Clarkson University. All three matches were played in Keuka Park, N.Y.
Jo Fier '11 recorded a double-double with 12 digs and 11 kills against Cobleskill (5-9). Kristen Selden '09 also posted 11 kills and added four blocks. Kelsey Lawler '11 was credited with 25 assists, eight kills and five aces. The defense was led by Amber O'Connor '09, who tied a season high with 32 digs. Rachel Irizarry '12 contributed 14 digs and Liz Reid '11 blocked three hitting attempts. The set scores were 21-25, 25-21, 25-19, 21-25, 15-11.
Selden led Hamilton with 15 kills and five blocks against Buffalo State (10-15). Lawler chipped in 27 assists, 13 digs and four aces. O'Connor paced the defense with 21 digs and Irizarry served five aces. Fier pounded eight kills and came up with 14 digs. The set scores were 25-20, 23-25, 25-12, 25-10.
O'Connor registered team highs of 21 digs and four aces against Clarkson (14-13). Irizarry hammered a team-high seven kills. Lawler passed out 17 assists and served three aces. Fier added 12 digs and six kills. The set scores were 26-24, 25-16, 25-19.
The Continentals travel to Amherst College for a New England Small College Athletic Conference match against Tufts University on Friday, Oct. 17, at 8 p.m.