Women's volleyball tripped up at Plattsburgh
---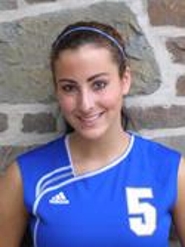 Hamilton College lost its opening two matches in the SUNY Plattsburgh Cardinal Classic at Memorial Hall on Sept. 18.
Hamilton (2-9 overall) fell in four sets to the hosts and then was edged by Buffalo State College in five sets. The Continentals take on St. Lawrence University at 11:30 a.m. and play a final match against an opponent to be determined at 1:30 p.m.
Plattsburgh (7-4) defeated Hamilton by scores of 21-25, 26-24, 25-21, 25-19. Amanda Cohen '13 smashed 11 kills and Alex Singh '11 added nine. Rachel Irizarry '12 led the defense with 15 digs while Liz Reid '11 had two blocks. Alyssa Hopper '13 was credited with 15 assists and served three aces. Cecelie Pikus '13 contributed 13 assists and three more aces.
Cohen recorded a season-high 16 kills against Buffalo State (7-5), but the Bengals prevailed 11-25, 25-14, 19-25, 25-22, 15-11. Pikus passed out 16 assists and hammered three aces. Jasmine Jolly '10 pounded five aces and eight kills. Ally Martella '13 blocked five hitting attempts and came away with nine kills. Irizarry posted 10 digs and Hopper distributed 13 assists.