Women's volleyball tripped up at Tufts
---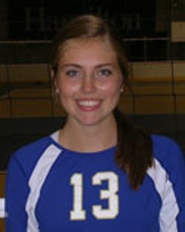 Kelly Brennan '15 posted 18 kills and seven digs as Tufts University defeated Hamilton College in three sets in a NESCAC match at Tufts' Cousens Gym on Oct. 12.

The Jumbos (11-6 overall, 6-2 NESCAC) won by scores of 25-16, 25-22 and 25-17. Tufts recorded an attack percentage of .255 compared to .094 for Hamilton.

Kendall Lord '13 was credited with 33 assists and six digs for the Jumbos. Natalie Bruck '13 served two aces and Juliana Goodbar led all players with five blocks. Kiersten Ellefsen '13 added three blocks.

Brenna Corrigan '14 just missed a double-double for the Continentals with 10 kills and nine digs. Corrigan entered the week ranked ninth in the conference with 2.82 kills per set.

Courtney Somerville '16 smacked eight kills and Erin Casey '15 led the defense at the net with four blocks. Blaire Frett '16 chipped in two blocks. Sarah Pfund '14 passed out 15 assists and served two aces, and Emma Lonadier '15 contributed 11 assists and seven digs.

The Jumbos led wire-to-wire in the first set and there was only one tie at 1-1. The largest advantage came after a service ace by Lord that made it 18-7.

Hamilton (7-13, 1-6) tallied the first two points of the second set on back-to-back service aces by Pfund. Tufts came back to tie the score at 3-3 and 4-4 before assuming the lead for good at 5-4.

The Continentals stayed close throughout with the biggest Jumbo lead coming at 15-9. Hamilton scored nine of the next 13 points to pull within one and force a Tufts timeout. A service ace by Bruck helped the Jumbos regain control and they scored six of the next 10 points to close out the set.

The third set had six ties and two lead changes as Hamilton again stayed close. After being down 3-0, the Continentals rallied for a 7-6 lead, and their last advantage came at 9-8. The Jumbos roared back and their largest lead of the set -- eight points -- was also the final difference.

Hamilton travels to nationally ranked No. 25 Bowdoin College for another NESCAC match on Saturday, Oct. 13. The Continentals will also play Coast Guard at Bowdoin on Saturday.