Women's volleyball wins Cougar Classic opener
---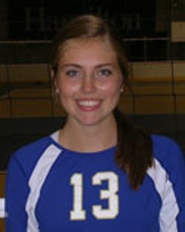 Hamilton College cruised to a three-set victory against U.S. Merchant Marine Academy in the Continentals' first match at Kean University's Cougar Classic in Union, N.J., on Oct. 19.

Hamilton (9-14 overall) won by scores of 25-18, 25-18 and 25-21. USMMA dipped to 12-14 on the season.

Brenna Corrigan '14 led the Continentals with 13 kills and added nine digs and two service aces. Corrigan entered the week ranked 10th in the NESCAC with 2.78 kills per set. Amanda Cohen '13 smacked six kills and Blaire Frett '16 chipped in five kills and two blocks. Frett is fourth in the conference in blocks per set.

Emma Lonadier '15 was credited with 22 assists and three aces. Anna Brown '15 led the defense with 16 digs and served three aces. Brown is second in the NESCAC with 4.70 digs per set. Emily Rosen '15 recorded nine digs and two aces, and Jamie Granskie '16 contributed 13 digs.

Hamilton takes on the hosts from Kean at 10 a.m. on Saturday, Oct. 20, and wraps up the tournament against Baptist Bible College at approximately noon.