Women's volleyball wins two in own invitational
---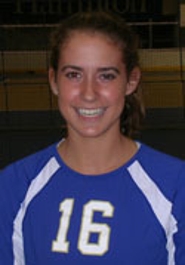 Hamilton College opened 2011 with wins against The Sage Colleges and SUNY Plattsburgh in the Hamilton Invitational at Margaret Bundy Scott Field House on Sept. 2.

The Continentals (2-0 overall) swept Sage by scores of 25-16, 25-14 and 26-24. Hamilton returned later that night and outlasted Plattsburgh in five sets (25-17, 23-25, 25-22, 22-25, 15-10). The Continentals wrap up the invitational with matches against SUNY Canton at 12:30 p.m. and Southern Vermont College at 2:30 on Saturday, Sept. 3.

Against Sage, Megan McCareins '14 led the offense with 10 kills in just two sets. Brenna Corrigan '14 chipped in seven kills, and Ava Kelley '15 had six with no errors in 12 attempts.

Rachel Irizarry '12 paced the defense with 14 digs and Cecelie Pikus '13 added 12. Pikus was credited with 13 assists, while Emma Lonadier '15 had 21 in her first collegiate match. Meredith Nuber '14 served four aces and Ally Martella '13 recorded three blocks.

Against Plattsburgh (1-1), Nuber and McCareins posted 12 kills apiece. McCareins was everywhere on defense as well, and finished with 28 digs. Nuber and Amanda Cohen '13 pounded two aces apiece. Lonadier passed out a team-high 26 assists and Pikus had 20.

Hamilton enjoyed a big advantage at the net against the smaller Cardinals with 11 total team blocks to Plattsburgh's zero. Martella had five, while both Kelley and Nuber registered four. Pikus ended up with 16 digs, Lonadier added 14, Anna Brown '15 had 13 and Corrigan contributed 12.