Women's vollleyball drops NESCAC match
---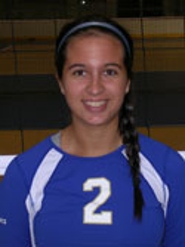 Hamilton College lost in three sets against Tufts University in a New England Small College Athletic Conference match at Tufts' Cousens Gymnasium on Oct. 16.

Tufts (16-6 overall, 7-3 NESCAC) rallied to win the first set, 25-21, and fought to a 25-17 victory in the second. The Jumbos closed out the match by a 25-16 count in the third.

The Continentals (9-11, 1-7) labored through the first set before falling to the Jumbos. The score was tied at 20-20 before Tufts scored five of the final six points.

Hamilton began the second set with three straight aces by Cecelie Pikus '13. A trio of kills helped Tufts move into a 7-3 lead, but the Continentals battled back to tie the match at 14-14. However, Tufts recorded 11 of the final 14 points to pull away.

Like the first and second sets, the third was played competitively. The Continentals earned an early 4-3 edge on a kill by Megan McCareins '14, but Tufts eventually led 14-9. Hamilton was still within 18-14 after a kill by Meredith Nuber '14, but the Jumbos finished the match with three straight kills.

McCareins had a team-high seven kills and 15 digs, while Nuber recorded four kills and seven digs. Pikus served five aces to go with 12 assists, and Rachel Irizarry '12 had 10 digs.

Hamilton's next four matches are at Margaret Bundy Scott Field House for the Continental Classic on Friday and Saturday, Oct. 22 and 23. On Friday, the Continentals play Keuka College at 5 p.m. and SUNY Cobleskill at 7. On Saturday, Hamilton faces Clarkson University at 10 a.m. and Anna Maria College at 2 p.m.