Women's cross country finishes 10th at NESCAC championship
---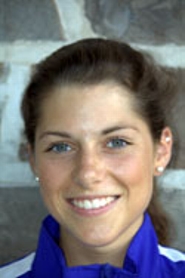 Hamilton College finished in 10th place of 11 teams at the 2011 NESCAC championships held at Amherst College in Amherst, Mass., on Oct. 29.

Full Results

Hannah Lyons '14 was the top finisher for the Continentals, placing 63rd out of 123 runners on the 6-kilometer course in a time of 24 minutes, 56 seconds. The race winner's time was 21:58.

Allie Gurney '14 was next for Hamilton with a time of 25:18. Sara Scheineson '12 finished in 25:24, and Glenn Watkins '12 was the very next finisher in 25:25. Rachel Cackett '13 rounded out the top five for the Continentals in 25:32.

Nationally ranked No. 1 Williams College captured the team title with 34 points, and No. 3 Middlebury College came in second with 42. No. 13 Amherst was a distant third with 105 points, followed by No. 22 Tufts University in fourth with 126 and No. 28 Colby College in fifth with 134. Hamilton finished with a team score of 299 points.

Hamilton competes in the NCAA Division III Atlantic Regional Championships at St. Lawrence University in Canton, N.Y., on Saturday, Nov. 12.