Women's cross country places 15th at NCAA Atlantic Regional
---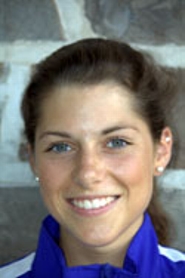 Hamilton College finished 15th of 36 teams at the 2011 NCAA Division III Atlantic Regional Championships at St. Lawrence University in Canton, N.Y., on Nov. 12.

Full results

Hannah Lyons '14 was Hamilton's top finisher, placing 57th out of 256 runners on the 6-kilometer course in a career-best time of 23 minutes, 32.3 seconds. The winner's time was 21:52.1.

Glenn Watkins '12 was next for Hamilton in 24:21.9, and Krystina Choinski '15 was the very next finisher in 24:23.0. Sara Scheineson '12 finished in 24:35.6, and Allie Gurney '14 rounded out the top five for the Continentals in a personal-record time of 24:49.6.

Seven nationally ranked teams competed in the race. No. 11 St. Lawrence captured the team title with 77 points, followed by No. 6 SUNY Geneseo in second place with 91 and No. 16 SUNY Plattsburgh in third with 99. No. 8 Rowan University finished fourth with 113 points and No. 21 New York University was fifth with 168. Hamilton finished with 466 points.