Woods Honored By Mohawk Valley Frontiers Club With Community Service Award
---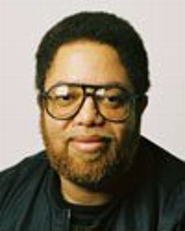 Professor of Music Michael "Doc" Woods was honored with the Dr. Martin Luther King Jr. Award for Outstanding Community Service by the Mohawk Valley Frontiers Club at a luncheon on Jan. 19. The club sponsors or contributes to many community service programs in the Mohawk Valley.

In honoring Woods, the program noted that he provides "a positive imprint on the moral, social and economic fabric of our community. We honor 'Doc' Woods because he is a pillar in our community, a positive image of an African American and a worthy role model for all youth throughout our community and nation. Doc has dedicated over 30 years of his life to the service of others."

The tribute to Woods pointed out that "Since moving to Oneida County in 1993, he has been most generous in sharing his musical gifts, talent and time."

Woods is a career mentor for area schools. He is active with the School and Business Alliance (SABA); is Health Friends Network music coordinator; conducts and coordinates music for NAACP events; presents Rome Arts Center lectures and performances; is a BOCES mentor, and conducts and coordinates musical events for many other local schools and organziations.

At Hamilton Woods directs the College's Jazz Ensemble and teaches courses in jazz history, jazz arranging and jazz improvisation. Woods majored in composition and minored in string bass at Indiana University and the University of Oklahoma. He has written more than 450 compositions in various styles including choral, orchestral, and chamber works, as well as jazz combo and big band charts. Recently, the North Arkansas Symphony Orchestra performed his work titled "War, Peace, Anger, Love." Woods is also director and bassist for the Zoe Jazz Band, and bassist for the Omniverse jazz ensemble.