Worldview Photo Contest Winners Announced
---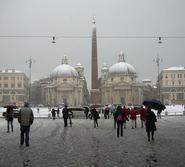 Four students were announced as winners of the 6th Worldview Photo Contest. Leah Berryhill '13 won first place for the photo she took in Rome, Italy, on the day it snowed there for the first time in 36 years. "Just as we came out of the Metro and entered the Piazza del Popolo, the twin churches capped with snow were a sign of the unexpected beauty of winter," she wrote in her accompanying essay.

Beau Brians '13 won second place for his photo of a children's physical education festival in Totsuka, Japan. "I was amazed at how the event, although focused on the kids, engaged everyone in the community, including citizens well into their retirement," Brians wrote.

In a tie for third place were Susannah Parkin '13 and Cecelie Pikus '13. Parkin's photo was in the Mekong Delta of Vietnam at Rung Tràm Trà Su – a protected mangrove forest and bird habitat in the An Giang province.

Cecelie Pikus '13 took a photo in Lisbon, Portugal, that showed brightly colored clothing hanging on a clothesline in Old City, "where the sun lit up copper rooftops and bounced onto the myriad of clothes dangling from quivering wires."

Students submit a photo and a written description of the photo. Together the photo and written description give students the opportunity to reflect on how they engaged with the people and culture of their host country.
Madeline LaCotera of Hamilton's Office of Off-Campus Studies coordinated the contest. "A winning entry often demonstrates how a Hamilton student takes part in the activities of a local community and comes away with a feeling of connectedness with the people in the community and the host country," she remarked.

LaCotera said that 24 entries were received. Students who studied on a Hamilton program abroad or a Hamilton approved program between January 1, 2012 and December 31, 2013, were eligible to enter photos.

This year's judges were Assistant Professor of Art Rob Knight, Associate Dean of Off-Campus Study Carol Drogus, and Alyssa Hopper '13.