Xiang Wang '12 Aids Constituents as Congressional Office Intern
---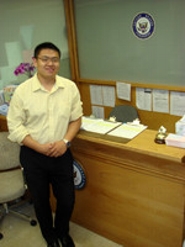 When Xiang Wang '12 watched the 2004 U. S. presidential election on television, he became enamored with politics and American democracy. It was only the beginning of his interest in governmental policy – the 5th Congressional District office, where he now interns, helped Wang and his mother immigrate to the United States. Now, as a potential world politics and economics double major at Hamilton, Wang is working for U.S. Congressman Gary Ackerman at the office, located in Bayside, N.Y.

"I treat my internship as my family's opportunity to give back to the Congressman for his kindness," he said. Wang applied for and received a stipend from the Summer Internship Support Fund, which aids students who might not have sufficient resources to undertake a summer internship, whether paid or unpaid.

Congressman Gary Ackerman is the chairman of the House Subcommittee on the Middle East and South Asia, and serves in the House Financial Services Committee. He is currently in his 14th term in the House of Representatives and represents a diverse community. New York's 5th District is heavily populated by immigrants from all over the world, so Wang spends much of his time translating Mandarin-Chinese into English and vice versa so that Chinese constituents and office caseworkers can understand each another. He helps the district's constituents with immigration status inquiries, from issues regarding Permanent Residence Card (Green Card) applications to Petitions for Refugee and Asylum. Furthermore, he assists the district staff with constituents' Social Security problems and veteran pensions, and discusses government issues with constituents to find out what the view is like from their perspective.

Interns also must complete an Intern Community Service Project, so Wang is coordinating with a local charity to take a group of underprivileged children from the 5th District to a New York Mets game.

Much of what he has learned is that changes in governmental policies will affect people's lives. However, citizens still have the will to speak out for change back to old policies if that is where their loyalties lie. Within the realm of these policies are contemporary political topics, such as healthcare reform, cap-and-trade, and cash-for-clunkers.

"This internship provides me with an illuminating tour of the relationship between the American people and their governments from all levels and offers me first-hand political insights," Wang said. Although he is still exploring career options, Wang feels that his work will undeniably be in immigrant reform because he cares about making the immigration process easier. "There would be more lawful, talented but underprivileged immigrants coming to this great country and fulfilling their American dreams," he said.


Wang is a graduate of Manhattan Comprehensive Night and Day High School.