Xiaohan Du '12 Brings U.S. Art Museums' Educational Ideas to China
---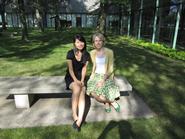 Xiaohan Du '12 is proud of her Chinese culture, but has some qualms about its philosophy on education, especially in museums. "The Chinese people don't get enough from the museums as they should," she said. Du describes the labels and audio guides that resemble those in American museums, but also mentions that there is a staggering lack of activity outside of these merely informative aides. "It's pretty passive," she noted. This summer, she did a comparison of American and Chinese educational methods in art museums. Her research was funded by the Emerson Foundation Grant program, which was created in 1997 to bolster student-faculty relations through collaborative research projects.

What is most at stake is the preservation of Chinese heritage, says Du. She believes that it should be a museum's civic duty to engage local people in their history, but right now, art museums in China are not living up to that expectation. They are just beginning to implement programs and field trips for students, most of which are solely efforts in experimentation.

After the rule of Mao Zedong, the Era of Reform swept China. Companies entered the global economy and experienced direct contact with the West, which gave rise to modernization and westernization. Furthermore, the Mao period prior to this had severed all ties with the country's past. Now China is essentially unaware of its history and equally unaware of the damaging effect "modernization" could have on its barely-there heritage.

Du acknowledges that she has seen the impact already, and that it is not only American culture permeating China. "Some of my friends [back home] play Japanese video games," she said.

The fact that China has become a global economic force should not mean that it has to sacrifice its customs, Du says. This summer she drew from American museums methods to build a more comprehensive educational program for Chinese art museums, so that citizens can understand and appreciate their nation's origins. Her paper on the topic will recommend how to achieve such a goal, and it will compare and contrast the two public education systems.

Du worked with Associate Professor of Art History Stephen Goldberg on the project. He and Du compiled a list of questions for her interviews that she conducted with people who run educational programs in the United States. She has spoken to directors of museums like the Cleveland Museum of Art, the Metropolitan Museum of Art, the Nanjing Museum, and the Qingdao Museum. She has also researched materials at public libraries and major museums in Beijing and Shanghai.

In addition, she volunteered at the Munson Williams Proctor Art Institute in Utica this summer. The institute is a regional fine arts center that offers three program divisions – Museum of Art, Performing Arts, and School of Art. Du works with some of their smaller educational programs and interacts with 4th and 5th graders. She has benefitted from her time there, because now she has an even greater appreciation of how the arts can affect young people.

"A museum is a very important instrument to preserve the collective memory of a people," Du said. The children may be learning more about their culture, and other cultures, than they realize.

Du plans on majoring in art history. She produces some of her own artwork as a hobby, but it's nothing too serious. She cares more about the way personal expression highlights culture and ethnicity.

"I think that it is important to speak up for our own voice," she said. "Through education, that voice can get through to the people."

Du is a graduate of Shandong Yanzhou No. 1 Middle School.