Renowned Yale Civil War Expert to Lecture
---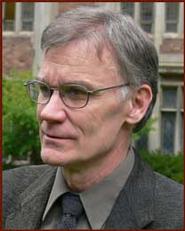 David W. Blight, the Class of 1954 Professor of American History and director of the Gilder Lehrman Center for the Study of Slavery, Resistance, and Abolition at Yale University, will lecture on Tuesday, Feb. 22, at 7 p.m., in the Hamilton College Chapel. The title of his talk is "The Civil War in Modern Memory: Robert Penn Warren and James Baldwin at the Centennial." The lecture, sponsored by Hamilton's History Department, is free and open to the public.
Blight is one of the nation's foremost authorities on the U.S. Civil War and its legacy. He is the author of A Slave No More: Two Men Who Escaped to Freedom, Including Their Narratives of Emancipation, (Harcourt, 2007). This book combines two newly discovered slave narratives in a volume that recovers the lives of their authors, John Washington and Wallace Turnage, as well as provides an incisive history of the story of emancipation. In June, 2004, The New York Times ran a front page story about the discovery and significance of these two rare slave narratives.
Blight's book Race and Reunion: The Civil War in American Memory (2001), received eight book awards, including the Bancroft Prize, the Abraham Lincoln Prize, and the Frederick Douglass Prize as well as four awards from the Organization of American Historians. His edited volume, Passages to Freedom: The Underground Railroad in History and Memory, was published by Smithsonian Press in 2004 and is the companion book for the opening of the National Underground Railroad Freedom Center in Cincinnati.
A frequent book reviewer for the Washington Post Book World, the Chicago Tribune, the Los Angeles Times and the Boston Globe, Blight has written many articles on abolitionism, American historical memory, and African American intellectual and cultural history. He is one of the authors of the bestselling American history textbook for the college level, A People and a Nation (Houghton Mifflin). Blight has also been a consultant to several documentary films, including the 1998 PBS series "Africans in America" and "The Reconstruction Era."
Blight earned a Ph. D. from the University of Wisconsin-Madison, and did his undergraduate degree at Michigan State University. He is a member of the Society of American Historians, a member of the board of trustees of the New York Historical Society, and the board for African American Programs at Monticello in Charlottesville, Va. Blight also serves on the board of advisors to the Abraham Lincoln Bicentennial Commission and is involved in planning numerous conferences and events to commemorate both the Lincoln anniversary and the sesquicentennial of the Civil War.