Yao Named American Council on Education Fellow
---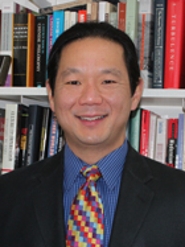 Professor of English Steven Yao has been named an American Council on Education (ACE) Fellow for 2012-13. The announcement was made by Molly Corbett Broad, president of ACE.
The ACE Fellows Program, established in 1965, is designed to strengthen institutions and leadership in American higher education by identifying and preparing promising senior faculty and administrators for responsible positions in college and university administration. Fifty-seven Fellows, nominated by the presidents or chancellors of their institutions, were selected this year following a rigorous application process.
Yao earned a Ph.D. in English from the University of California, Berkeley. He is the author of Foreign Accents: Chinese American Verse from Exclusion to Postethnicity (Oxford, 2010) which was recently selected by the Association for Asian American Studies for its Book Award in Literary Studies. He also wrote Translation and the Languages of Modernism (Palgrave/St. Martins, 2002). Yao is co-editor of Sinographies: Writing China, Pacific Rim Modernisms, and Ezra Pound and Education (forthcoming from the National Poetry Foundation in May, 2012).

Yao's academic interests include literary translation, poetry, modernist literature, Asian American literature and cross-cultural poetics. In 2005 he was awarded a fellowship from the American Council of Learned Societies and he served as a Stanford Humanities Center External Junior Faculty Fellow for 2005-06. Yao has published essays in journals such as Lit: Literature, Interpretation, Theory, Textual Practice, and Representations.

Yao received the Dean's Scholarly Achievement Award for Mid-Career Achievement at Class & Charter Day in May, 2011. He was recently selected to serve on the International Editorial Advisory Board for the Routledge Encyclopedia of Modernism, an online comprehensive resource that will provide definitions and essays on terms associated with modernism and/or the avant-garde.

Sharon McDade, director of the ACE Fellows Program, noted that most previous fellows have advanced into major positions in academic administration. Of the more than 1,700 participants in the first 47 years of the program, more than 300 have become chief executive officers and more than 1,100 have become provosts, vice presidents or deans.

Each ACE Fellow will focus on an issue of concern to the nominating institution while spending the next academic year working with a college or university president and other senior officers at a host institution. The ACE Fellows Program combines retreats, interactive learning opportunities, campus visits and placement at another higher education institution to condense years of on-the-job experience and skills development into a single semester or year.
Fellows attend three week-long retreats on higher education issues organized by ACE, read extensively in the field and engage in other activities to enhance their knowledge about the challenges and opportunities confronting higher education today.
Founded in 1918, ACE is the major coordinating body for all the nation's higher education institutions, representing more than 1,600 college and university presidents, and more than 200 related associations, nationwide. It provides leadership on key higher education issues and influences public policy through advocacy.