Young People's Project Equates Math With Leadership
---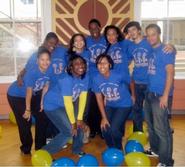 The Young People's Project at Hamilton College hosted its first semi-annual math tournament on Saturday, Dec. 5, in the Fillius Events Barn. Attendees included 24 students whom the organization works with at Donovan Middle School in Utica.

The participants enjoyed playing games from the Flagway module, a compilation of lesson plans that teach prime numbers and number characteristics through color combinations and Venn Diagrams. After several games, some pizza and an exciting round of the Cha-cha-slide, there was a ceremony to present prizes and certificates to all participants.

The mission of the Young People's Project is to use math literacy as a tool to develop young leaders and organizers who radically change the quality of education and life in their communities so that all children have the opportunity to reach their full human potential.

Hamilton College students, referred to as College Math Literacy Workers (CMLWs), are trained to develop and facilitate workshops for students in the Advantage Afterschool Program at Donovan Middle School. The Hamilton students commit to attending weekly training sessions and facilitating at least one hour-long workshop a week.

The Young People's Project at Hamilton College is completely student-led. Leide Cabral '11 is the current site director, and Denise Ghartey '12 and Hannah Roth '11 are the coordinators. The site at Hamilton College was co-founded by Hector Acevedo '08 and Cabral.

This semester the program was made possible by funding from The Kirkland Endowment, The Diversity and Social Justice Project, and The Bonner Leaders Program in the Levitt Center.