Zipcars Are Ready to Roll!
---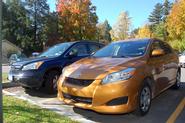 Members of the Hamilton community who don't have a car on campus will be wheel-less no more, thanks to the arrival of Zipcar on the Hill. Zipcar, the world's largest provider of cars on demand by the hour or day, will begin its service at Hamilton this week, as an environmentally friendly alternative to the costs and hassles of keeping a car on campus. The partnership continues Hamilton's commitment to invest in sustainable solutions on campus and marks Zipcar's entry into Clinton, bringing its operations to more than 50 cities, including London, England, and 28 North American states and provinces.

Two self-service Zipcars – a Toyota Matrix and a Honda CR-V – will be available for use 24 hours a day, seven days a week. The cars are located in the parking lot behind Dunham Residence Hall near the Campus Safety Office. They will be available to staff and students at least 18 years old with a valid driver's license, with gas, maintenance and insurance included in the rates. To use a Zipcar, members of the Hamilton community must register online through the Zipcar Web site for an initial membership fee of $35. The rental rates start at $8.50 an hour and $65 per day. Clinton residents aged 21 or older with a valid driver's license can also join for $75 ($25 one time application fee and $50 annual fee). More than 100 college and universities partner with Zipcar.

Nancy Thompson, Hamilton's dean of students, said the Zipcar program will supplement Hamilton's sustainability efforts. "We're hoping the addition of Zipcars will encourage conservation, while providing convenient transportation for our students and staff," Thompson said. "Zipcar has worked well on many college campuses and we're confident the Hamilton community will embrace it as well."

Thompson, who was instrumental in bringing Zipcars to Hamilton, added, "Zip Cars will be great for any student who does not have a car on campus and wants to get off the Hill for awhile without being tied to the jitney schedule or relying on a friend with a car. The cost is nominal and the process of reserving and accessing the cars is easy. The program has been very well received on other campuses. We hope that the program will be self-sustaining in terms of cost within the first year or so," Thompson said.

Hamilton will guarantee Zipcar $3100 a month for the two vehicles. Zipcar is the world's leading car sharing service with more than 225,000 members and 5,500 vehicles.


Learn More: