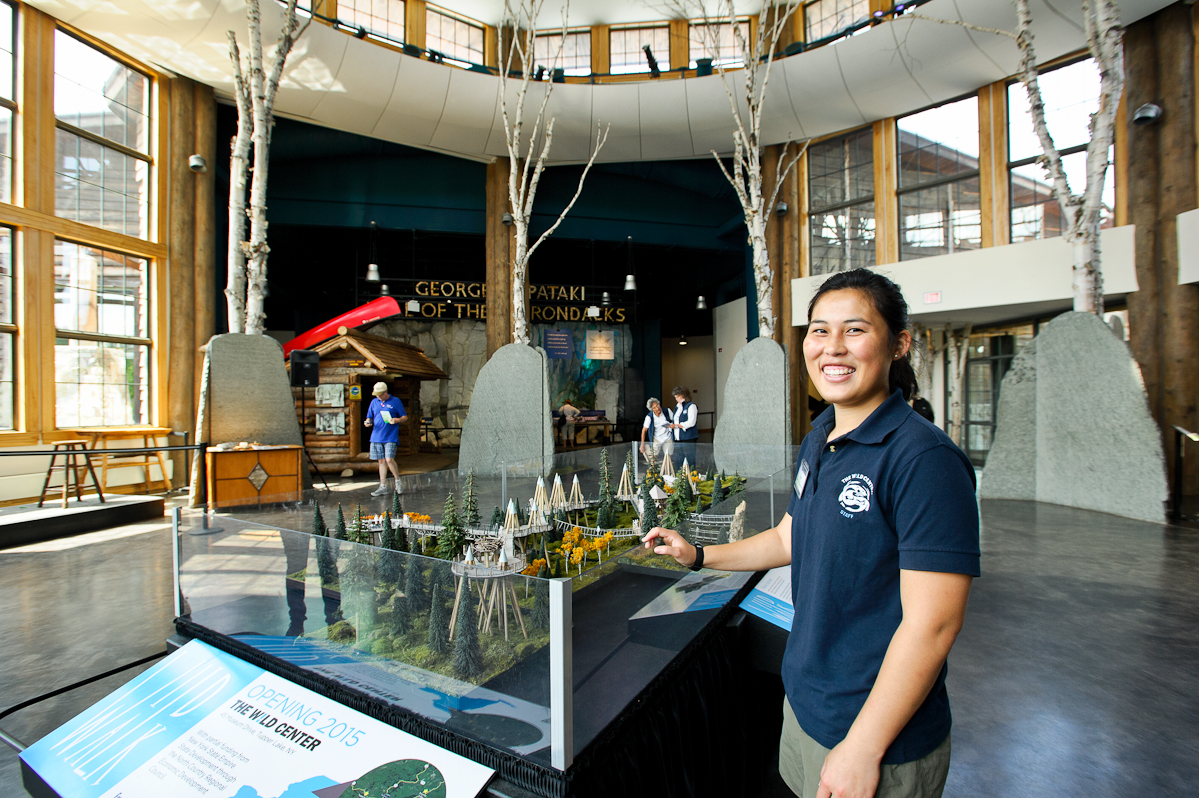 Zoe Tessler '16 is interning this summer at the Wild Center in Tupper Lake, N.Y, with support from the Jeffrey Fund in the Sciences, which funds students who intern at organizations that promote wildlife conservation or animal care. The Wild Center, located in the Adirondack Park, is a nonprofit organization that educates visitors on the Adirondacks' rich biodiversity and natural history often through interactive exhibits.
As Tessler noted, "The Center is committed to helping people explore and understand the history of the Adirondack region as well as educate communities about our relationship with nature and discover new ways humans and the natural world can thrive together."
The bulk of Tessler's internship deals with environmental education. "For example," Tessler said, "I deliver interpretive and educational programs every day that range from live animal encounters, art sessions, naturalist walks, canoe trips and 'planet Adirondack' presentations using a three dimensional piece of technology that shows over 400 data sets created by NASA and NOAA." Tessler also organizes community events, photographs for the Center, and informs visitors and school groups about the Adirondacks and the Center's exhibits.
In addition, as part of her internship Tessler trained to become certified as an interpretive guide from the National Association for Interpretation, which she said "provided an intensive look at how to develop and deliver meaningful programs to a variety of audiences using the principles of interpretation." She believes this training coupled with her work at the Center has strengthened her public speaking skills and provided her with valuable exposure to teaching technologies, including graphic design and distance learning programs.
This internship matches Tessler's interests perfectly. "I am strongly interested in conservation biology as well as environmental education, research, and studio art," she said. The Wild Center specializes in environmental conservation and education and this year it is has a special emphasis on art, which includes a small studio in the center of the exhibit floor designed for visitors to practice watercolor painting. As such, Tessler has had the opportunity to advance both her scientific and artistic interests this summer.
Tessler found this internship through the Liberal Arts Career Network by way of HamNet and so far it appears to have been not only educational, but also a lot of fun: "I'm getting some cool animal handling experience, including large snakes, screech owls and kestrels. Plus, it's refreshing to interact with super excited kids and adult visitors who share fantastic snippets of their lives with me as I tell them about the Adirondacks and our exhibits."
Zoe Tessler '16 is a graduate of Amherst Regional High School (Mass.)