Joan Hinde Stewart
19th President, Hamilton College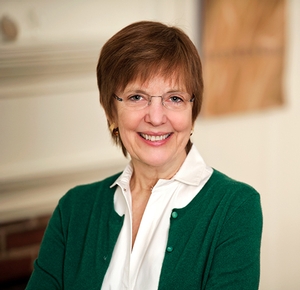 Joan Hinde Stewart assumed the Hamilton presidency on July 1, 2003. She was formerly dean of the College of Liberal Arts and professor of French at the University of South Carolina (USC). The first in her family to earn a college degree, Stewart also joined the Hamilton faculty as professor of French. She is the first female president in Hamilton's 200-year history.

Stewart has presided over a period of tremendous growth at Hamilton. The physical plant is undergoing a massive reinvestment in excess of $200 million and highlighted by the opening of new and renovated spaces for the sciences, social sciences, arts, and fitness and recreation; the entering classes are setting records for quality, selectivity and diversity; and the two capital campaigns that Stewart helped launch after becoming president exceeded their goals with an emphasis on facilities and student scholarship aid. Under her direction, the College has implemented a strategic plan that advances four defining values rooted in Hamilton's historic strengths: education for self-direction, a self-governing community, thoughtful dialogue and debate, and engagement with the world.

Prior to her time at Hamilton and her arrival at USC in 1999, Stewart was a member of the faculty at North Carolina State University from 1973 to 1999 and chair of the Department of Foreign Languages and Literatures from 1985 to 1997. She also served as assistant dean for research and graduate programs for the College of Humanities and Social Sciences. In 1988-89, Stewart chaired the North Carolina Humanities Council, and in 1977 she received the university's Outstanding Teaching Award.

Before joining the NC State faculty, Stewart taught at Wellesley College. She received her Ph.D. from Yale University in 1970, having graduated summa cum laude in 1965 from St. Joseph's College, a small, private, liberal arts institution in Brooklyn, New York.

Stewart's scholarship focuses on 18th-century French literature, especially women writers. She has written several books and numerous articles, essays and book reviews, and has been a frequent speaker at professional conferences both in the United States and abroad. Her latest book, The Enlightenment of Age, a study of women and aging in early modern France, was published by the Voltaire Foundation, Oxford, England, in fall 2010. She is the recipient of fellowships from Yale University, the National Humanities Center and the National Endowment for the Humanities, and has been a fellow at the Université Paul Valéry in Montpellier, France, a visiting scholar at Oxford University in England, and a fellow at the Liguria Study Center for the Arts and Letters in Bogliasco, Italy.
With Professor of English Emeritus John H. O'Neill, Stewart teaches a seminar on the early modern novel in England and France.

Hamilton's 19th president is married to Philip Stewart, who recently retired as the Benjamin E. Powell Emeritus Professor of Romance Studies at Duke University. The couple has two grown children.
President Joan Hinde Stewart has announced her plan to retire on June 30, 2016, after 13 years leading the liberal arts college.