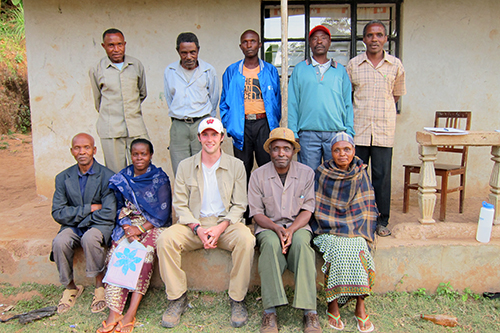 Eren Shultz '15 in Tanzania's Pare Mountains with board members of the Gonja Sub-Kume Water Cooperative.
A student's initiative: doing research in Africa
Eren Shultz '15 spent part of a summer working with farmers in Tanzania for a project funded by a grant from Hamilton College. He is a double major in economics and geosciences who picked Hamilton in part for its flexible open curriculum. Through coursework, he zeroed in on economics, sustainable agricultural development and water.
More >>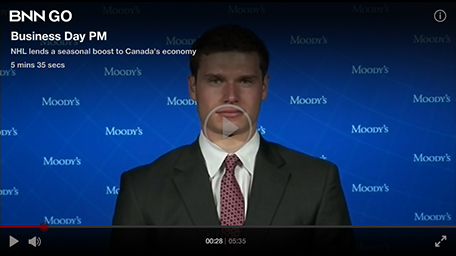 Here is Alex Lowy '14 being interviewed by the Business News Network.
An econ grad's progress: a job at Moody's
As an associate economist at Moody's Analytics, which specializes in economic forecasting, Alex Lowy '14 is responsible for the states of New Hampshire and Montana and a few cities scattered across the country. Back at Hamilton, he knew from the first he wanted to major in economics. "I really like how economics combines quantitative and qualitative analysis, and I think that's what drew me to the major," he says. Still, some of his favorite classes and professors had nothing to do with econ. Hamilton's open curriculum creates the opportunity to try new things, Lowry says.
More >>