Saturday, August 28, 2010
Bookstore turns the page
By Anna Zahm '13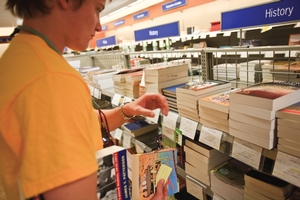 When Ford Charman '13 left Hamilton following the 2010 spring semester, a rough chain link fence surrounded the middle of campus while bulky machinery laid siege to Emerson Hall. Yet when Charman arrived on campus three months later for the new school year, he was greeted by an incredible transformation. The construction team had removed the fence, restored Martin's Way and organized the chaotic renovations into a revamped Emerson Hall, now the Sadove Student Center, which also houses the brand new College Bookstore.
Inside, a crowd mills around the Hamilton paraphernalia, dorm supplies and enormous stock of books that fill the two floors of the new store. In this crowd is Charman, who talks about the bookstore's relocation from down the Hill in the Bristol Center to the new Student Center. "The location is a lot better, and it's modernized," he says. And what of placing the new store in old Emerson Hall? "I think it was good to merge the history of the school but keep the integrity of the building," he says.
His comments mirror the sentiments of the campus community. The new Sadove Student Center at Emerson Hall has been well received and is surviving the madness of the semester's start. It stands proudly in the middle of campus, heralding another year of new beginnings.
Related
So no complaints? Well, perhaps one. Charman echoes the feelings of a few other upperclassmen as he laments, "I heard they got rid of the graffiti that had been in the basement. I think they should have kept that."