Sunday, May 22
Laughs, tears, gravitas, goodbye: The End.
No: The Beginning
Some of our graduating senior writers offer their thoughts on Commencement:

Julia Mulcrone
"... a single carefree superlative has the power to destroy, for readers, the object of your enthusiasm." Strunk & White, in this case I respectfully disagree. I had the best possible time at Hamilton.

Jeff Cardoni
In 2007, I wrote a letter to myself in 2011. My 2007 self was afraid of failure.
I won't make that mistake again.

Nick Stagliano
I couldn't possibly be happier about spending the past four years here. This Hill may very well be the greatest place in the world.

Julia Wilber
Being a Choir member, I've been to several graduations. It is a pleasantly familiar place, but this time the bagpipes played for me. I wish Grandpa could have been here, too.

Dana J. Quigley
If Hamilton College were a person, we'd probably have matching tattoos. Alas, a diploma will have to do. Thanks for everything, HamCo.

Rebecca Behrens
It's hard to think that almost everything anyone will write on your Wikipedia page hasn't happened yet. I have no clue what will be there.
2011 Commencement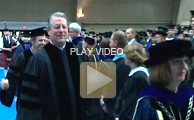 Commencement highlights video

Leigh Ercole
The end is:
Surreal
Exciting
Arranged
Ready
Secure
Bittersweet
Nostalgic
Poignant
Blue
Happy
Honored
Accomplished.
Time flew
It's also the beginning
Of our next adventures.

Russ Doubleday
From Seattle to Clinton (including a side trip to London), it's been a rather unlikely collegiate journey. And I wouldn't have it any other way.

Courtney Flint
Walking the stage with strep; not exactly a picture-perfect ending. Thanks for the memories, Hamilton — the good, bad and in-between. Hopefully next time we meet, I'll be running a 98.6.

Kate Tummarello
Our four years have really been something. You've taught me a lot, but it's time for me to move on. It's been real, Hamilton. Thanks.

Olivia Wolfgang-Smith
Hamilton, thank you for not getting angry as I spend Commencement afternoon picking out music for the road trip to grad school. I promise, it hurts to leave you.

Caitlin Fitzsimons
Accomplished
Honored
Reflecting
Growing
Blessed
Privileged
Inspired
Transformed
Motivated
Encouraged
Nurtured
Ready
Responsible
Enlightened
Anticipating
Prepared
Welcomed into the distinguished community
of Hamilton College alumni!

Alyssa White
I know that when I get home, Papa will say, "You're all right, kid." I look forward to hearing that, even more than getting the diploma.