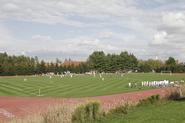 Hamilton College's 2014 fall varsity sports season begins on Tuesday, Sept. 2, with women's soccer and volleyball playing on the road.
The women's soccer team travels to SUNY Oswego for a non-conference game that starts at 4 p.m. and volleyball takes on Morrisville State College in non-conference action that begins at 6:30 p.m.
The first home event features the Hamilton field hockey team against SUNY Geneseo for a non-conference game at Campus Road Athletic Field on Wednesday, Sept. 3, at 5 p.m.
Fallcoming and Family Weekend will be from Friday, Oct. 10, until Sunday, Oct. 12. That weekend features 11 home events, including football against Bowdoin College on Saturday, Oct. 11, at noon.
View schedules for all 13 teams that compete in the fall: