5th Hamilton Serves Joins Students With Community
---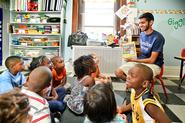 The fifth annual Hamilton Serves took place on Wednesday, Aug. 29, with the entire first-year class and new transfer students going out to volunteer at 60 community organizations.
Amy James, Community Outreach and Opportunity Program (COOP) director, explained, "We do it really for three reasons: to reach out to the surrounding community and share our most important resource, which is the intelligence and energy of our students; to get students off the hill and let them know about life outside of the 'Hamilton bubble'" (and hopefully inspire them to get involved in future service initiatives); and also to offer a small group experience through which orientation groups can bond."

Hamilton Serves is also beneficial to the non-profits served. "Agencies love our students," said James. "They're so glad for the help and I think pleasantly surprised when it comes to them en masse like this."

Hamilton Serves began as an Orientation activity in 2008 with the class of 2012. Among the volunteer activities this year, members of the class of 2016 helped a new refugee family move into an apartment with the assistance of the Mohawk Valley Refugee Center; cleaned the basement of the Utica Zoo gift shop; read to and played with children at Thea Bowman House; and worked with animals at the Rome Humane Society.