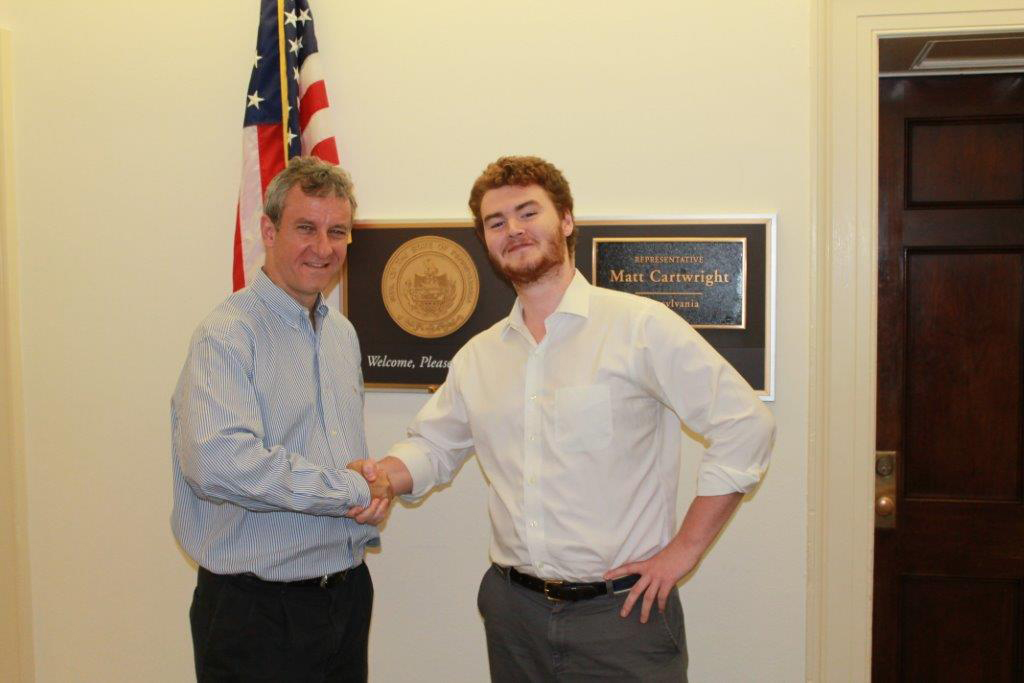 Max Flath '16 is getting an inside look into the workings of our political system this summer as an intern in the office of Congressman Matt Cartwright '83 (D-PA-17). Though internships on Capitol Hill are not uncommon, the manner by which Flath acquired his internship stands out as unique and reinforces the power of Hamilton connections.
He explained that while sitting in dense traffic on I-81 near Wilkes Barre, Pa., last summer, "A man came up to the side of my car and knocked on my window, asking 'Who here goes to Hamilton College? I saw the bumper sticker.' Flath responded that he was a rising sophomore and the individual introduced himself as "Matt Cartwright, Class of '83." "He handed me his card and walked back to his car," said Flath, "and I looked down at the card and it read 'Matt Cartwright, Member of Congress' with a golden U.S. Congressional seal in the corner."
Upon returning home, Flath Googled Cartwright. "I found out not only that he was a Hamilton alum, but that he was my district's representative: a Democrat with similar opinions as my own, and a history major at Hamilton as well. It couldn't have been a crazier coincidence." Flath e-mailed the Congressman in February with the information that he was interested in possibly pursuing a career in politics and was urged to apply for an internship in D.C. "I applied a month later and got the job. It was an unbelievable series of events."
Cartwright, known for his moderate Democratic positions, as well as his support of environmental issues, was elected in 2012 and has since sat on the Committees on Natural Resources and on Oversight and Government Reform.
As an intern in Cartwright's office, Flath's responsibilities primarily consist of responding to constituents' letters, e-mails and phone calls, as well as drafting legislative requests that summarize bills for the Congressman. He is also working on an environmental bill called the PREPARE Act: legislation that reorganizes the infrastructure surrounding disaster response to improve future handling of disaster response.
"It's an interesting bill because it is not explicitly about climate change or global warming, (but) addresses climate-related disasters without explicitly alluding to climate change," Flath claimed. This nuance, he said, has allowed the bill to enjoy bipartisan support, as it dodges one of the partisan roadblocks that environmental bills have faced more broadly: the Republican Party's rejection of the concept of man-made climate change. "The work we did to get bipartisan support was a cool little slice of politics, working with conservative lobbying groups and Republican congressmen to get the bill passed."
To Flath, one of the most rewarding aspects of his work in Cartwright's office is the exposure to the actual inner workings of the federal government. So few Americans, he argued, get the opportunity to actually experience it, and as a result Flath has greatly valued this inside look into an all-too-often opaque institution. "Politics isn't really the backroom dealings, greedy lobbyists, and detached congressmen that so many people assume it is," he explained. "There are thousands of people who work in congress, at all different levels, who are hard-working people who really care about the issues they're researching and trying to address."
That he claims, will likely be his greatest takeaway from this experience; that politics is even more complicated than those on the outside can possibly imagine. It is, however, to Flath, ultimately rewarding. "It's a really cool process, trying to get bills passed with bipartisan support, and having the chance to pass legislation that could change the country for the better."
Flath's internship is supported by the Class of 1964 Internship Support Fund, managed by Hamilton's Career Center.