Adirondack Adventure, Outreach Adventure Welcome the Class of 2016
---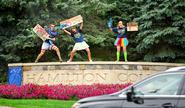 Adirondack Adventure (AA) and Outreach Adventure (OA), Hamilton's pre-orientation programs for new students, will welcome 283 members – representing 60 percent – of the Class of 2016 on Friday, Aug. 17. This year marks the largest AA/OA participation ever, with 240 first-year students going on AA trips plus 43 taking part in OA.
AA, now 28-years-old, is an outdoor pre-orientation leadership program featuring 28 trips that focus on hiking, canoeing, rock climbing or kayaking at beginning, intermediate or advanced ability levels. All trips are conducted in various locations in the Adirondacks and guided by experienced student, staff or faculty leaders. Students can canoe on Blue Mountain Lake, go sea kayaking on Lake Champlain or hike Grand Traverse, to name a few.

OA offers a parallel option to Adirondack Adventure for those students who aren't interested in outdoor trips, but would like to participate in a pre-orientation experience. These students will perform service work at area non-profit agencies.

One group will work with youth at the Rome Arts and Community Center; another will help out at human service agencies on "Hospitality Row" in Utica – comprised of Hope House and Emmaus House; and another will spend time at Johnson Park Center in Utica.

Among new trips this year, a group will travel to Schoharie County to assist with flood and storm damage recovery from Hurricane Irene and Tropical Storm Lee with Schoharie Area Long Term (SALT). Another new opportunity will let students spend half their time with Rebuilding Together Mohawk Valley, an organization that performs small projects to improve people's lives. On the other portion of that trip, participants will work at a 15-acre site in Waterville that is to become a camp for families with children who are terminally ill.
A new crossover trip this year will allow participants to spend half their time working at a local, organic, family-owned farm and the remainder rebuilding trails at the Santonani preserve in the Adirondacks.
Parents and friends can follow the best of the best of the pre-orientation and orientation experience on Storify.
After arriving on Aug. 17, students in AA and OA groups will spend the next day on campus preparing for their trips before departing on Sunday. They'll spend two-and-a-half days volunteering or exploring the Adirondacks, then the two groups will join up for a high ropes course and night at the Outdoor Education Center on Aug. 23. Everyone returns to campus on Aug. 24 to join other members of the Class of 2016 for New Student Orientation, which begins on Aug. 25.