Annual Class & Charter Day is May 4
---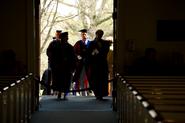 Hamilton's Class & Charter Day celebration, an annual convocation recognizing student and faculty excellence during the preceding academic year, will take place on Friday, May 4, at 12:15 p.m., in the Chapel. This year's speaker is Julie Ross '84, president of the Alumni Association. Her remarks are titled "Reflections on Inspiration, Transformation and Hamilton at its Bicentennial."

The ceremony will be available online via live webcast.

Following the awards ceremony, an all-campus picnic will take place from 11:30 a.m. to 2 p.m. on Dunham Green, and HamTrek, the ninth annual campus triathlon, will begin at 2 p.m.

Among other Class & Charter Day events, a concert with headliner Super Mash Bros, indie rock band Dr. Dog, and Downbeat Keys (with Kadahj Bennett '12, Andrew Root, '09, Baldwin Teng, Jared Schneider and Ryan Calabrese), will begin at 2 p.m. in the Annex.

Student and faculty award winners will be posted after the event on the Class & Charter Day website.
The first Class and Charter Day was held in 1950. It was the brainchild of then President Robert W. McEwen, who sought to combine the traditional Class Day (originally the last Wednesday of classes when students annually held games, athletic and singing contests, and various other extracurricular activities) with commemoration of the anniversary of the granting of the College's Charter on May 26, 1812.

Noting that Class Day then fell close to the College's "birthday," he conceived the idea of having a convocation in the Chapel to hear an address by an alumnus, faculty member, historian or trustee whose subject would be something related to Hamilton's history and traditions. The occasion also came to include recognition of students with honors and awards. Afterwards, the day would be given over to student fun and games. That tradition has been continued at the College ever since.