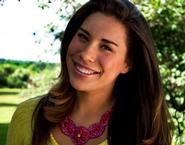 Cassidy (Cassie) Dennison '16 is spending her summer interning as a legislative analyst at Williams & Jensen, LLC, in Washington D.C, a litigation and lobbying firm. Dennison, a government major, discovered the internship through a connection at the Career and Life Outcomes Center, which put her in contact with Hamilton alumnus George Baker '74, a partner at Williams & Jensen. The firm is home to a number of other Hamilton alumni, including Baker's fellow partner Frank Vlossak '89, Marc Pitarresi '10 and Kevin Prior '13.
While Dennison has long harbored a passion for government and political studies, it was not until she arrived at Hamilton that that passion became a part of her potential career path. "Growing up, I always thought of my love of government and politics as a hobby," she said. "While at Hamilton I discovered it was much more than that. Growing up in Clinton doesn't give you much exposure to the world of politics. Knowing that, I decided to 'test the waters,' and see if government was the career path for me," Dennison explained. "Last summer I interned on a Congressional campaign and loved the experience. I decided that this spring and summer I would try to build off that experience." To that end, Dennison spent her most recent spring semester with the Hamilton Program in Washington, where she began her current work with Williams & Jensen.
There is no "average" day for Dennison. "The thing about lobbying is that no two days are exactly alike," she said. "Some days I walk into the office and casually work on a research project. There are others when I get in in the morning and have to cover hearings, meet with clients and research the amendment that was just put on a Bill," she explained.
Dennison's other responsibilities include writing reports for clients, organizing and attending briefings, preparing witnesses for testimony in Congress, the creation of client presentations, writing letters of support on behalf of clients, and research on voting trends, politicians and areas of political interest for the firm.
Dennison's time with Williams & Jensen, and more broadly, her time in DC, has been eye opening. "Despite popular belief, it's nothing like House of Cards — sorry to disappoint," she jokes, adding "there are a couple of things that I wish people knew. One is that the idea that lobbying firms only represent big businesses with lots of money is a complete myth. Yes, some clients are big businesses, but that doesn't mean all are. For example, just this week I had dinner with an oil producer from New Mexico whose company has only 25 employees."
The internship has clarified Dennison's professional aspirations as well. "If you had asked me (about my plans) two months ago I would have said that I had no idea. This past semester and summer has really clarified my post-grad plans — I definitely want to be back in D.C. and I'm thinking about going into consulting or lobbying," she said, concluding, "I also knew that if I were to pursue politics as a career I'd need knowledge of what actually happens on the Hill. This internship has helped me develop that knowledge and will hopefully help put me on the right path for a career in government or politics."
Dennison is a graduate of Clinton Central High School (N.Y.)