Peter Jorgensen '16 at the U.S. Embassy in Copenhagen, Denmark.
Taking on the world: politics is just the beginning
As deep as his interest runs in world politics, Peter Jorgensen '16 says he couldn't take studying only that subject or its close relatives. Jorgensen is a world politics major with an English minor and a possible second minor in French.
More >>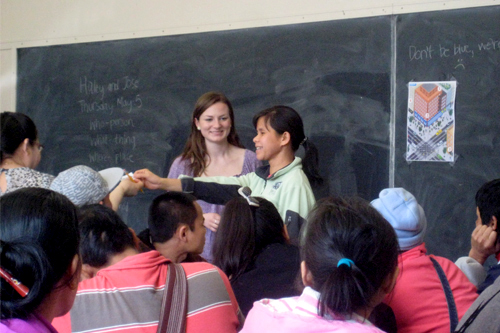 Haley Peterson '11
A graduate's progress: a path to law school
Right out of Hamilton, Haley Peterson '11 worked on Capitol Hill for a Vermont congressman. The summer before law school, she led a community service trip for high school students to Tanzania. It was great, but Peterson was ready for more school. "After working for a few years after graduating from Hamilton, I felt that the legal field was the place where not only I could practice my research and writing skills but also where I could make the biggest impact in the environmental field," says Peterson, who is a law student at the University of Maryland.
More >>