Thomas Funk '15 interned for Congresswoman Cheri Bustos at her congressional office in Washington D.C.
A student learns firsthand: D.C. internship, study in France
Thomas Funk '15 says his summer internship with a U.S. congresswoman will play a part when he decides what to do with his future. Experiencing Washington, D.C. firsthand was an eye-opener.
More >>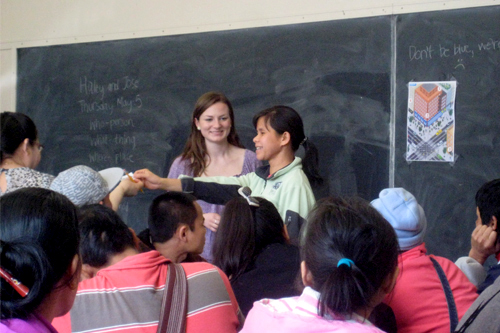 Haley Peterson '11
A graduate's progress: a path to law school
Right out of Hamilton, Haley Peterson '11 worked on Capitol Hill for a Vermont congressman. The summer before law school, she led a community service trip for high school students to Tanzania. It was great, but Peterson was ready for more school. "After working for a few years after graduating from Hamilton, I felt that the legal field was the place where not only I could practice my research and writing skills but also where I could make the biggest impact in the environmental field," says Peterson, who is a law student at the University of Maryland.
More >>