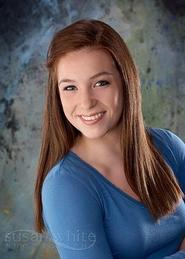 Jamie Granskie '16 is making a difference this summer as an intern at the National Eating Disorders Association, headquartered in New York City. Formed in 2001, the NEDA is America's leading non-profit organization dedicated to supporting individuals and families affected by eating disorders. The organization's activities include organizing awareness events, raising funds for advocacy efforts, and maintain and operate the Information and Referral Helpline. Granskie's internship is supported by the Scott Steven Morris '86 Fund, managed through Hamilton's Career Center.
Granskie's work primarily centers on the NEDA's Helpline, a toll-free number that provides an opportunity for sufferers of eating disorders and family members to voice their concerns and seek guidance. As an operator of the Helpline, Granskie said that her job is both inspiring and deeply rewarding. "From being the first person someone tells about their eating concerns, to hearing a client's unique experience with their eating disorder, I feel privileged to be able to listen to people share their perspectives and, therefore, expand my own."
In addition to operating the Helpline, Granskie is tasked with sending emails to individuals who requested treatment options or information surrounding eating disorders. She researches therapists, medical doctors, nutritionists and/or treatment centers in clients' areas in order to tailor email responses to their needs and concerns. Finally, interns and volunteers on the Helpline are responsible for gathering information and resources for a number of projects aimed at keeping NEDA up to date on treatment-center insurance policies, international eating disorder organizations, and information on continually developing topics such as Body Dysmorphic Disorder, orthorexia, and diabulimia.
Granskie has also become involved with Proud2BMe, an online community developed by NEDA for adolescents and young adults aimed at raising awareness about eating disorders, combating negative media messages, and discussing relevant topics in positive and healthy ways. "Blogging on this platform allows me to combine my psychology and sociology background with what I have learned from NEDA to communicate about relevant events and topics," she said.
Granskie said that these various jobs interest her due to "the positive impact they have on sufferers and their loved ones. Often, people simply don't know how to find the resources available to them," she added. "Being the person to provide them with a first step and, consequently, with newfound hope, is so rewarding."
This work comes at an opportune time, said Granskie, as eating disorders are a deadly, yet often underreported and misunderstood, set of illnesses. "I feel that people often approach the topic of eating disorders insensitively, which often results from a lack of understanding of the complexity of such diseases along with ignorance of their grave consequences… I wish people knew that eating disorders kill more people each year than do any other psychiatric illness," she remarked.
The stigmatization surrounding eating disorders is a large contributor to their deadly status, said Granskie, with many individuals being too afraid or ashamed to seek proper treatment and support. By hearing clients speak about their experiences with shame surrounding eating disorders, she said she has learned the profound importance of improving public awareness and education about just how lethal these illnesses are.
How one approaches support and advocacy, however, can make all the difference, claimed Granskie. "As I approach the end of this internship, I come away with the understanding that supporting someone struggling with an eating disorder—or anything, really—is most successful when listening to understand as opposed to simply listening to form a reply."