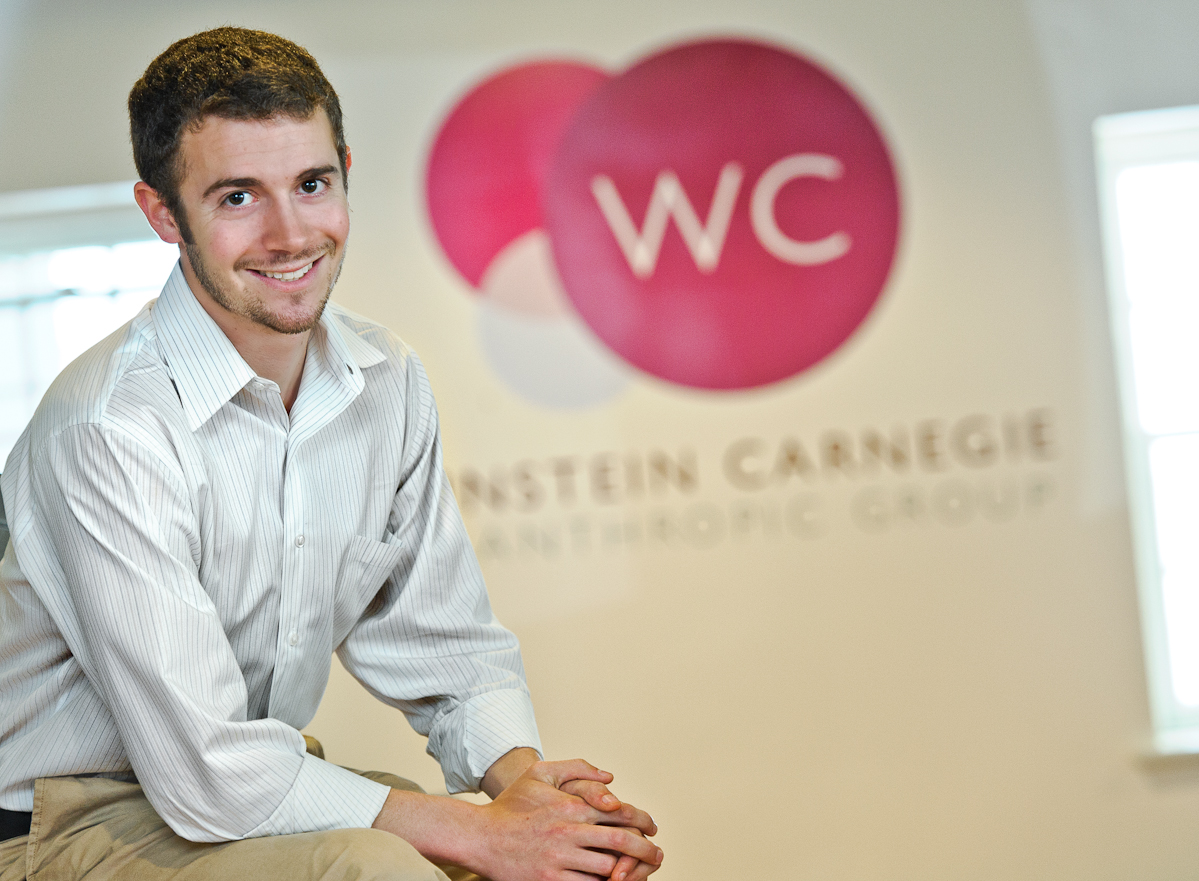 Though common perception may hold that charity and for-profit business stand opposed to one another, Eli Shakun '16 is spending his summer in an internship at the Weinstein Carnegie Philanthropic Group (WCPG) in New York City, a firm whose business model challenges that perception.
The WCPG "is a boutique consultancy that specializes in the philanthropy space," explained Shakun. "We work with nonprofit agencies on fundraising, manage celebrities' and athletes' foundations and assist brands on their corporate social responsibility efforts. While we work with charities, celebrities and brands, we're at our best when we can combine all three into one project. In short, we are professional fundraisers. Our goal is to maximize the impact of philanthropic work in the U.S. through improved mobility of, and access to, fundraising dollars." Shakun's internship is supported through Hamilton's Summer Internship Support Fund.
Shakun came into this opportunity through his own personal research, as well as a connection through Hamilton's Career Center's director of employer relations Abby Taylor, who put him in touch with Sara Weinstein '02, one of the partners at WCPG. "From there it was a series of emails and calls that lead to a summer internship," said Shakun. "The entire experience was a really great first exposure to the Hamilton alumni network for me."
As an intern at WCPG, Shakun's responsibilities include putting together marketing materials for nonprofit clients, creating target lists for corporate partnerships, conducting outreach to corporations on behalf of clients, and providing background research for ongoing projects. "I've only been here for three weeks and have already contributed to six on-going projects, and have started my own," he said. Shakun noted that he has already contributed to four projects for traditional charities, two celebrity foundations, and one major brand.
Even so early in his internship Shakun feels as if he has learned much from the experience, especially given the firm's atypical approach to fundraising.
"Philanthropy does not have to be passive," he said. Acknowledging that traditional fundraising methods such as applying for grants and asking for private donations are important, Shakun noted that there are other ways to raise funds. "For example, a lot of our work involves creating corporate partnerships for our nonprofit clients," he explained.
Shakun also expressed enthusiasm for the work environment at WCPG, and the workplace atmosphere surrounding philanthropy in general. " We work with some really high profile clients on their charitable foundations like Sean Penn, Pamela Anderson, CC Sabathia of the New York Yankees, and former U.S. tennis star James Blake to name a few. WCPG has also recently worked closely with the Great Names Series at Hamilton, and (was involved in) getting Derek Jeter on campus."
Regarding his plans post-graduation, Shakun expressed interest in taking the insights his time at WCPG has given him into other fields, perhaps "some sort of environmental or social impact business," he said. "I'm fascinated by the idea of using markets to solve social and environmental issues. I think WCPG is a great example of a social impact business, both expanding the scope of the philanthropic sector and changing the way we think about charity," Shakun concluded.