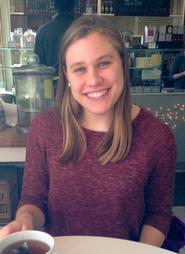 Elizabeth Barry '17 is learning creative approaches to marketing and public relations work this summer in an internship with Two Sheps That Pass, a boutique niche marketing and consulting firm headquartered in New York City. THTP was founded in 1999 with the original goal of promoting artists through unorthodox marketing strategies, and now services clients that "not only include both Grammy award-winning and indie musicians, but also photographers, restaurants, wealth management firms, best-selling authors, human rights organizations, Off-Broadway productions and more."
Barry discovered her internship through the Liberal Arts Career Network's internship search function, hyperlinked through Hamnet. Though she said she lacked direction when initially searching for opportunities over the summer, she claimed that "speaking with Career and Life Outcomes Center staff, particularly Heather Wixson, helped guide me toward types of internships that I might be interested in or excel at."
Barry's work at THTP largely revolves around scheduling and administering radio and TV interviews, ticket-giveaways and social media exchanges on behalf of the company's clients. She is also responsible for research pertaining to clients' peers and competitors. Her current project involves working to set up in-office performances at New York startups on behalf on an Israeli theatre troupe, Tziporela. Part-and-parcel of this task is the ability to construct and deliver convincing pitches particular to each individual start-up, requiring both copious research on the given companies and an intimate knowledge of the theatre troupe.
"My favorite part of my current project is that I have a chance to explore the business world through a different lens than a typical Econ major," she said. This type of internship is of great interest to her for the opportunity that it grants to work closely with clients to formulate creative solutions for their particular needs. "There's nothing more satisfying than knowing you have been able to go above and beyond what your client asked of you," Barry noted.
Viewing this summer's experience as a tremendous learning opportunity, Barry expressed great satisfaction with the number of skills that she has been able to develop during her time at THTP. "Before starting this internship I knew next to nothing about marketing and PR," she said. "Over the summer, I have learned how to write pitches and think outside the box when it comes to finding solutions for our clients." Through the internship Barry has also witnessed first-hand the value of effective and clear communication in the modern workplace, as well as the importance of how one presents herself in the professional world.
However, though this may have been an extremely valuable opportunity for professional development, Barry says that she has also learned an important lesson regarding the importance of individual interest and engagement with a given topic. "I've learned that I have to be passionate about the project I'm working on, otherwise it can become difficult to give the your client what they want," she concluded.