Good Hair to be Screened in Black History Month Series
---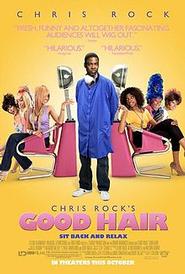 To commemorate Black History Month, the Days-Massolo Center will screen the comedy documentary Good Hair on Tuesday, Feb. 14, at 4:15 p.m., in the Center on College Hill Road. The screening is free and open to the public.
Chris Rock's investigation into African American women's attitudes toward their hair began when his daughter Lola asked him why she didn't "have good hair." Rock examines the development of the $9 billion black hair industry and the science behind chemical relaxers that straighten hair by visiting hair salons, barbershops and the Hindu temples of India.
Accompanied by filmmaker Jeff Stilson, Rock conducts interviews with black celebrities ranging from Rev. Al Sharpton and Maya Angelou to Ice-T while combining humor with serious discussions. Good Hair focuses on the acceptable look of African American women's hair in society, its effects upon African American culture and the lengths black women are willing to go through to look a certain way.
The 2009 film by Chris Rock Productions and HBO Films was a Sundance Film Festival official selection.