From Apoptosis to U.S. Intelligence in Iraq, Senior Theses Cover Range of Topics
---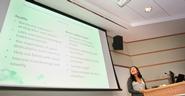 As the 2011-12 academic year comes to a close, seniors are busy preparing their final projects and theses for presentation to the community. As is the tradition at Hamilton, for the next week every department will showcase the work of its concentrators in late afternoon and evening presentations that are open to the public.

Hamilton requires that all students complete the Senior Program in their concentration as a means of demonstrating an appropriate level of mastery of the content and methods of a discipline. Each department and program of concentration has designed a Senior Program that serves as an integrating and culminating experience for the concentration. Building on their courses and showing their increasing ability to work independently, seniors are required to produce a significant synthesis of knowledge by presenting a research paper, poster, reading or performance.

In recent days, Kendall Weir's economics thesis, "The Effects of Character on NFL Draft Status and Subsequent Performance," was featured in news stories in conjunction with last week's draft.
Other theses cover a wide range of topics. In the Communication Department Jordan Eck will discuss "Twitter's Impact on the Celebrity-to-Fan relationship." Biology student Tani Leigh will showcase her research "Reconstructing the Eukaryotic Tree of Life Using ribosomal proteins as molecular markers," and Brittany Tomkin, a theater concentrator, will present her original play "Ceiling Fan." For her Comparative Literature project, Haley Riemer-Peltz will give a short concert celebrating the blues women of the Harlem Renaissance. A sampling of this year's senior research projects can be found below.