Goebel '15 Delves Into Chekhov in Emerson Project
---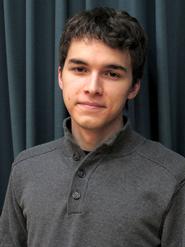 Last fall, Nate Goebel '15 realized that he wasn't satisfied with the way he read plays and decided to improve his reading of what happens between the lines of dialogue. In an Emerson Foundation Grant project titled "Apocalypse at Dinner: A Creative-Minded Study of Anton Chekhov's Craft," Goebel will immerse himself in the plays and short stories of Anton Chekhov and will ultimately adapt one of the author's stories into a short play, developing a first-hand knowledge of playwriting. Goebel, a theatre and creative writing double major, hopes that this experience will improve his understanding of plays from both angles.
A theater class with Professor Carole Bellini-Sharp, who is now Goebel's Emerson advisor, first sparked his interest in the Russian author. He was impressed by how much goes on beneath the surface of Chekhov's writing and by studying the author intensively over the summer, Goebel hopes that he'll be able to delve into the subtexts of the plays.
He's also finding that Chekhov's insight into life makes his works intriguing subjects of study. Goebel commented that the observations in Chekhov's plays ring true today, despite the fact that they were written over a century ago in Russia. He remarked, "I'm discovering more and more that [Chekhov] knew life so well . . . I find moments where he just hits the nail on the head." In particular, Goebel has found Chekhov's depictions of relationships and interactions especially realistic and telling about the way people relate to one another.
Goebel began by reading Chekhov's play The Seagull over winter break. He remarked, "You only get so much out of a first reading, but it intrigued me enough to keep going." Now, he is reading a selection of short stories and plays from Chekhov's 30 volumes of work and is supplementing these readings by studying some of the author's letters and biography. Goebel believes that understanding the context in which Chekhov wrote will improve his analysis of the writing, explaining, "I believe that studying his life and times – including his occupation and social background, as well as late nineteenth century Russian government and society – is likely the only way to appreciate the intricacies of his plays and the way in which he composed them."
Goebel has found some particularly interesting insights in Chekhov's letters. In one letter, for instance, Chekhov notes that he completed four lines of a play in one day, demonstrating his dedication to precision. Goebel quipped, "Writers now won't have that because no one writes letters anymore. We'll have to publish their tweets." Chekhov's letters, however, will hopefully provide insight into his thought process and how he constructed his writing.
Toward the end of his project, Goebel will choose one of Chekhov's stories to adapt into a play, using his understanding of Chekhov's playwriting style. He'll likely pick one characteristic of Chekhov's writing to imitate, perhaps his emphasis on subtext or the sense of malaise. Goebel commented that "the best way to learn is to imitate," so he hopes that adapting the story will be the culmination of his understanding of Chekhov's craft. He will then stage a reading of his play for the Hamilton community in the fall semester.
Goebel also hopes to use his insight into Chekhov's work in his own writing. He remarked, "In reading and writing, I want to explore subtext, something that's currently very distant to me." He'll take a fiction workshop in the fall and plans to incorporate what he learns from Chekhov into those stories.
Goebel plans to think more in terms of what's happening underneath the surface and being able to "say something without saying it." He also hopes to learn from Chekhov's construction of complex characters. Goebel believes that the skills he gains this summer will also help him through future research or internships and in completing his two senior theses. After spending a summer delving intensely into his plays and short stories, it's likely Goebel will carry Chekhov with him for years to come.
Goebel is a graduate of Christian Brothers Academy in Syracuse, N.Y.