Hamilton Celebrates Holi
---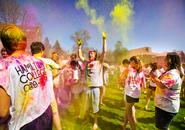 Holi, an Indian festival of colors, was celebrated for the first time at Hamilton on May 4. The festival is celebrated on the day after the full moon in the Hindu month of Phalguna (early March). It marks the beginning of spring, commemorates various Hindu traditions and is time of disregarding social norms and indulging in general fun with family and friends.
The festival of Holi is a celebration of the colors of unity and brotherhood – an opportunity to forget all difference and indulge in unadulterated fun. On this occasion the throwing of colored powder transcends all barriers of discrimination so that everyone looks the same and universal unity is reaffirmed. It commemorates the end of winter and colorful flowers that spring brings.
Hamilton's Holi event was sponsored by the South Asian Students Association and Campus Activities Board.