Hamilton Prepares for Annual Family Weekend
---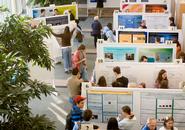 Hamilton's Family Weekend will take place on campus from Oct. 25-28 with 1,470 family members and friends expected for the annual event. The weekend will illustrate the many opportunities Hamilton has to offer, as activities are planned to entertain and educate.

Events begin with lectures on Thursday, Oct. 25. Paul Taaffe P'13, '16, head of communications for Groupon, previously at Hill & Knowlton, will discuss careers in communications. His talk is at 7 p.m. in room 3024, Taylor Science Center. Also at 7 p.m., in KJ 101, guests can join College Historian Maurice Isserman, the Publius Virgilius Rogers Professor of American History and author of On the Hill: A Bicentennial History of Hamilton College, to learn about Hamilton's 200+ year history.

At 7:30 p.m. in the Kirner-Johnson Red Pit, independent filmmaker Armel Hostiou presents RIVES (DAY, in English), a haunting study of urban alienation seen through the prism of three characters from very different socio and national backgrounds, over the period of a single day in Paris. CAB Acoustic Coffeehouse welcomes singer-songwriter Joe Pug at 8 p.m. in the Fillius Events Barn.

On Friday, family members can join their child for an open class and visit the new Ruth and Elmer Wellin Museum of Art. At 3 p.m. in the Red Pit, KJ, visitors can join faculty for a discussion of Sherry Turkle's Evocative Objects, the College's Common Read 2012. The theme of the 2012 Common Reading Experience centers around the objects that make us who we are, on the objects we have come to love.

Last summer, more than 100 students conducted research with Hamilton faculty; science researchers and Levitt Center Fellows will display posters of their work in the Wellin Atrium and KJ Mezzanine, respectively.

For evening entertainment, the Hamilton College Choir and College Hill Singers join forces with the Department of Dance and Movement Studies. The musical portion will feature choral works and spirituals conducted by G. Roberts Kolb .The dance part of the performance will showcase original choreography by Sandra Stanton, Kirstin Howard, Paris Wilcox and Bruce Walczyk. The program begins at 7:30 p.m. in Wellin Hall and will be reprised at 1:30 p.m. on Saturday.

In separate 9 a.m. sessions for parents of seniors and parents of underclassmen, the Career Center will offer, respectively, a career information session and The Competitive Edge, an overview of the steps necessary for students to be competitive in their post-Hamilton pursuits.

President Joan Hinde Stewart will deliver the annual State of the College address at 10 a.m. in Wellin Hall, followed by tea with the president, senior staff and faculty.

Football kicks off against Williams at 1 p.m., and student writing prize winners will read their short stories and poetry at 2 p.m. in the Fillius Events Barn. At 2:30 p.m. in the Bradford Auditorium, College Democrats and Republicans will face off for an Election Debate: Should Obama Be Reelected?
Cap off the day with a performance by the Hamilton College Jazz Ensemble, led by Mike "Doc" Woods at 7:30 p.m. in Wellin Hall. The ensemble will perform new tunes and jazz standards in a program shared with the Hamilton College Orchestra.

On Sunday before heading for home, families are invited to enjoy brunch on the Village Green with the Clinton merchants, from 11 a.m. to 1 p.m.