Morning Service
---
It was an anniversary of sorts.

To COOP director Amy James, 2011 marks the year that every class of Hamilton students has participated in Hamilton Serves. The Orientation program began in 2008 and takes the students to volunteer at local non-profit agencies for the morning before classes start.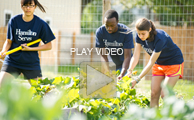 This year 507 first-year students and transfers and 61 upperclass student leaders visited 61 local non-profit agencies, where they dug, painted, cleaned, played, entertained, and sorted. See a video and view photos from their day...