Hamilton Students Collect Prestigious National Fellowships, Scholarships
---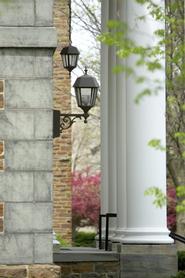 Hamilton students are having an impressive year in being named the recipients of national fellowships and scholarships. Among the awards are the Thomas J. Watson Fellowship, Barry M. Goldwater Scholarship, Fulbright grants and NSF Graduate Research Fellowships.
BEINECKE MEMORIAL SCHOLARSHIP
Beinecke Scholarships enable and encourage highly motivated students to take fullest advantage of graduate opportunities available to them, and to be courageous in the selection of graduate study programs. Scholars are awarded $2,000 for senior year and $30,000 for graduate study.

BRISTOL FELLOWSHIP
Created for Hamilton College students to "encourage discovery of self and the world, a greater appreciation and understanding of people and culture, and to enable individuals to act on great ideas through independent study projects rather than formal academic pursuit." Projects should be based on strong personal interest and commitment; they should be imaginative and thoughtful; they should be feasible; they should exhibit a spirit of inquisitiveness and a seriousness of purpose. Candidates will not be solely judged on academic record, but rather on the spirit of inquisitiveness and potential.
DAVIS PROJECTS FOR PEACE GRANT
The Davis Projects for Peace is made possible by Kathryn Wasserman Davis, an accomplished internationalist and philanthropist. Upon the occasion of her 100th birthday in February 2007, Mrs. Davis, mother of Shelby M.C. Davis who funds the Davis UWC Scholars Program, chose to celebrate by committing $1 million for 100 Projects for Peace.
FULBRIGHT GRANT
The Fulbright U.S. Student Program offers fellowships for U.S. graduating college seniors, graduate students, young professionals and artists to study abroad for one academic year.

FULBRIGHT ENGLISH TEACHING ASSISTANTSHIP
The Fulbright English Teaching Assistantship Program (ETA), an element of the Fulbright U.S. Student Program, places U.S. students as English teaching assistants in schools or universities overseas, thus improving foreign students' English language abilities and knowledge of the United States while increasing their own language skills and knowledge of the host country. ETAs may also pursue individual study/research plans in addition to their teaching responsibilities.

BARRY M. GOLDWATER SCHOLARSHIP
The Scholarship and Excellence in Education Program honoring Senator Barry Goldwater is the premier national undergraduate award in mathematics, natural sciences and engineering recognizes exceptional academic achievement and research pursuits.

MATH FOR AMERICA FELLOWSHIP
Founded in 2004, Math for America (MfA) is a private nonprofit organization whose mission is to improve math education in U.S. public secondary schools by recruiting, training and retraining outstanding mathematics teachers. The MfA fellowship is a five-year program where recent college graduates and mid-career professionals commit to teach math in public secondary schools. The program includes one year earning a master's degree in education and four years of teaching math in public secondary schools.

NSF GRADUATE RESEARCH FELLOWSHIP PROGRAM (GRFP)
The NSF Graduate Research Fellowship Program (GRFP) helps ensure the vitality of the human resource base of science and engineering in the United States and reinforces its diversity. The program recognizes and supports outstanding graduate students in NSF-supported science, technology, engineering and mathematics disciplines who are pursuing research-based master's and doctoral degrees in the U.S. and abroad.

THOMAS J. WATSON FELLOWSHIP
National fellowship to engage in one year of self-designed independent study and travel abroad. Proposed project should involve investigation into an area of demonstrated concern and personal interest, it should be creative, feasible, interactive, and personally significant -- critical elements are commitment, quality of project, and match of project to the individual, feasibility, and the ability to work and travel independently. It should not be a repeat of earlier experiences, although it may build upon them. The project may not include formal study in a foreign institution. Student's academic record is considered together with those cocurricular activities that reflect both initiative and a commitment to the stated area of interest.