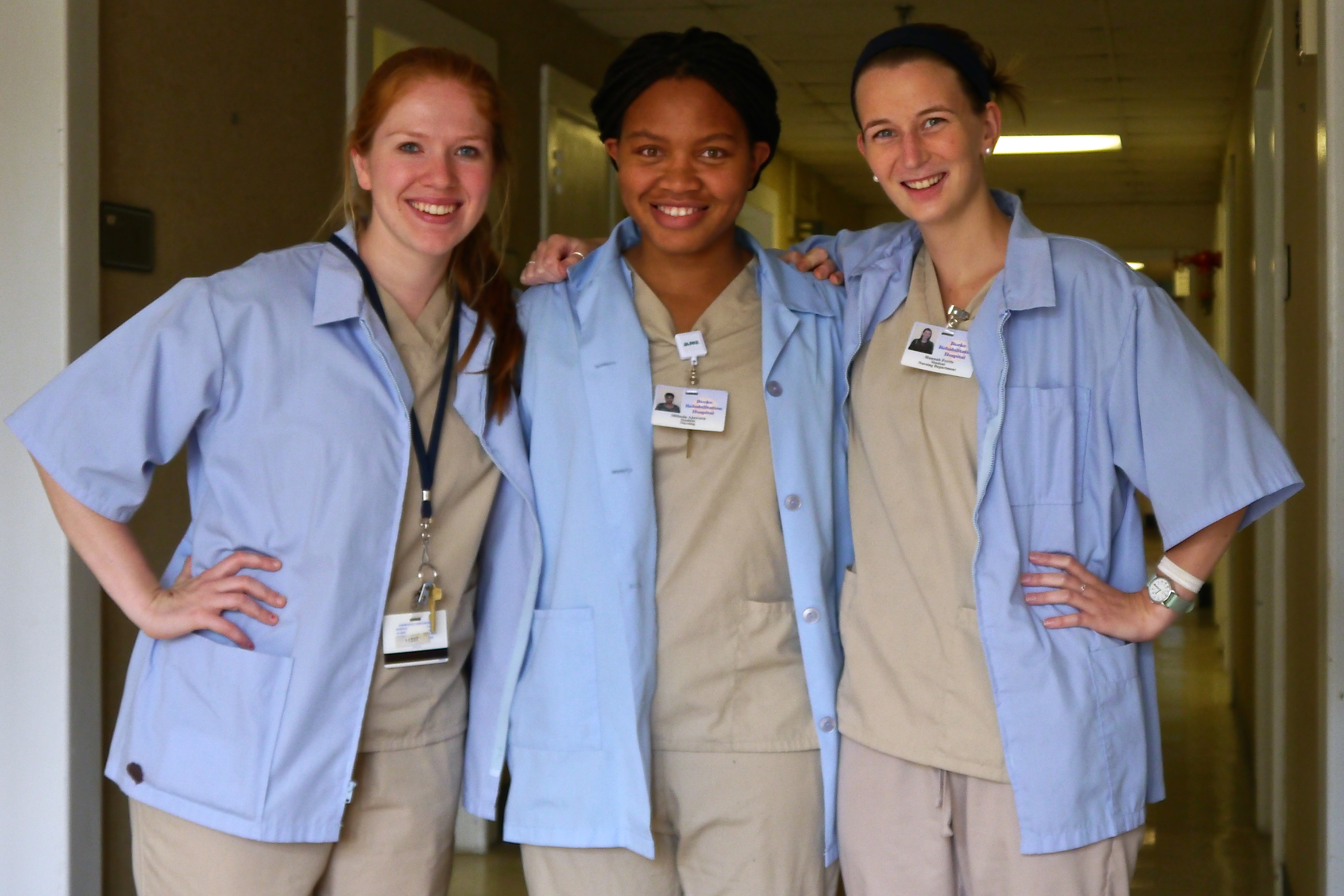 Three Hamilton students, Hannah Ferris '16, Kate Getman '16 and Milinda Ajawara '16 this summer participated in internships at Burke Rehabilitation Hospital in White Plains, N.Y. Burke Hospital, celebrating its centennial this year, is an acute rehabilitation hospital that has maintained a long-standing relationship with Hamilton College, offering internships yearly to qualified applicants. Each of the three students held positions as interns in different areas of the hospital, with Ajawara in the stroke unit, Getman in the TBI and spinal cord injury wing, and Ferris in the cardiopulmonary unit.
The students expressed great satisfaction with their times at Burke, both as challenging academic and professional experiences, as well as deeply rewarding ventures. "I have always had a strong passion for patient care," explained Getman, "so to be able to work in a highly demanding unit was such an amazing experience." She added that being able to apply her focuses in biology and medicine to real life patients suffering from spinal and brain injuries was both satisfying and moving. "I was able to see first-hand the psychological and bodily impacts that these injuries caused, while understanding the science behind it… I have always known that I wanted to work with people, and (at Burke) I was able to make so many personal relationships with my patients."
That sentiment was echoed by Ajawara, who claimed that she particularly valued the inside look into the field of medicine, both as it relates to the academic and the personal elements of the profession. "Working in the health field doesn't just require a knowledge of medicine, it requires patience, compassion and empathy," she said. "Nurses and Nursing aides perform multiple "behind the scenes" tasks that allow hospitals to function properly."
In work such as this, says Getman, the difficulties and the rewards come in equal measure. "This internship has been one of the most challenging experiences I've ever had, but I have grown immensely," she claimed. "I've learned so much about patient care in regards to how to make them feel comfortable and motivated to get better, (as well as) about the clinical setting of a hospital and what is expected of you as an employee." In that way, the internship experience teaches a different and extremely valuable set of lessons than the classroom, agreed Ajawara, adding that she hopes to go into the healthcare field and that this summer's hands-on experience helped to solidify that desire.
"This experience confirmed my passion to help people in a medical setting," agreed Ferris, recalling one memory in particular from her time at Burke. "One of the most rewarding experiences I had over the course of the summer was watching a patient walk out of the hospital with his family, without any assistance or walking aid, when he had been admitted only two weeks earlier in a wheelchair and on oxygen."
"This internship is the closest thing you can get to being a full time hospital employee, and the clinical experience can't be matched anywhere else," concluded Getman. "Working with patients who have experienced life changing injuries has been extremely humbling for me, and has opened my eyes to those with permanent disabilities."