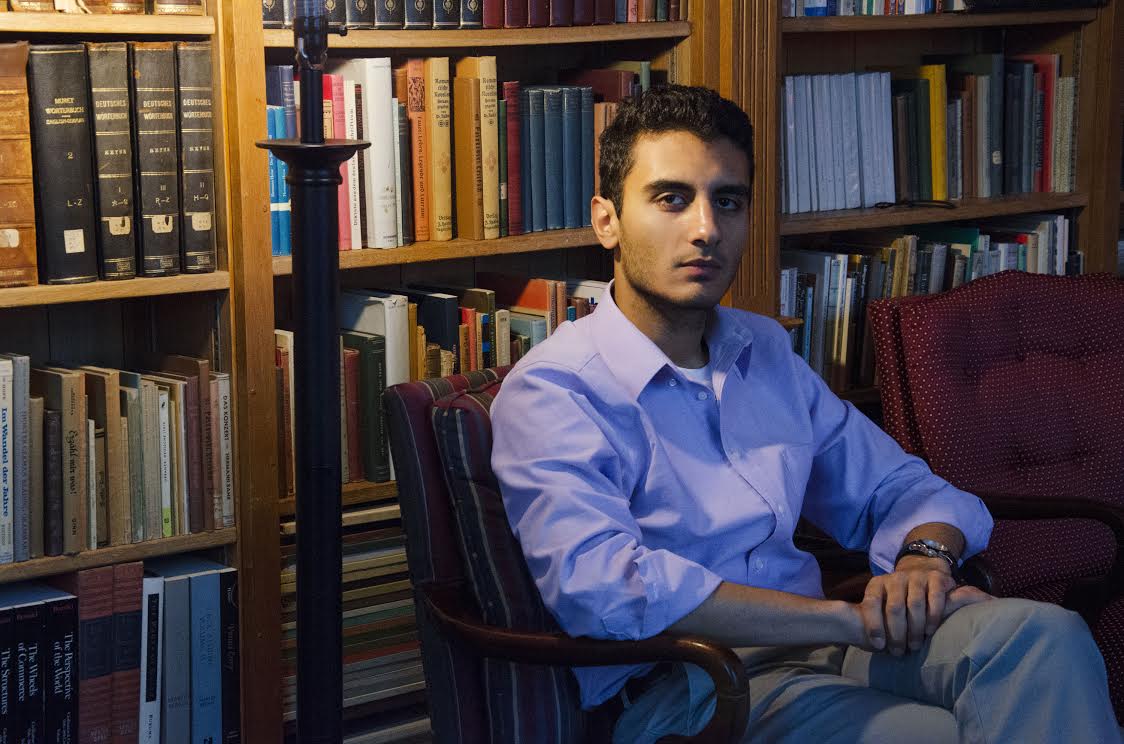 Though it has been almost five years since President Hosni Mubarak's regime toppled in Egypt, the dust is still settling from the political turmoil that followed. This summer, Hady Hewidy '17 is looking back at the years before the 2011 revolution, examining trends in political engagement and participation in the preceding decade that may be fundamental to understanding the groundswell in opposition to Mubarak's government.
Hewidy, a native of Cairo and an economics and world politics double major, said this project was rewarding because it intersects his academic and personal interests. "This research relates directly to two of my areas of interest in politics … political participation and political violence," he claimed.
Beyond his personal and academic connections to the project, Hewidy said that he has benefited tremendously from working with his advisor, Edward Walker, the Christian A. Johnson Distinguished Professor of Global Political Theory and former U.S. Ambassador to Egypt. "I am extremely fortunate to be able to work with (Walker)," remarked Hewidy. "Besides his wide knowledge of the Middle East in general, he has first-hand experience with the Egyptian politics of the time-period that I'm researching (and) has also provided me with great access to sources and interviewees."
Due to the sensitive nature of his research in Egypt, Hewidy said he had experienced difficulties with data collection because of the oppressive regime. "Egypt is currently extremely polarized politically," he explained. "The regime maintains a very hostile position towards potential opponents. And although an undergraduate summer researcher might not sound like a serious threat to many, I still fall under the regime's potential undesirable irritations."
As a result, Hewidy was forced to exercise discretion in his methodological approaches to the research. Certain individuals that he would have preferred to have interviewed, he said, he determined to be too risky to seek out, due to the likelihood of being monitored by the current regime under Abdel Fattah el-Sisi. As Hewidy's research relies on the method of process tracing, using historical developments, interviews, testimonies, figures and data sets to arrive at conclusions, these necessary restrictions meant that certain prominent political figures and policies of the 2000s could not be explored to a depth that would have been ideal.
These inconveniences, however, shouldn't be a deterrent, he argued, as the importance of understanding the forces that drove the 2011 revolution cannot be overstated. "The revolution of 2011 will continue to be the most important event in the lives of my generation," he said. "And although it might be too soon to understand the full implications of the revolution, we could at least start by attempting to explain some of the events that preceded it."
Hewidy's research this summer is supported by a Levitt Summer Research Fellowship, which funds students for 10 weeks of full-time summer research. Students who receive funding are responsible for a 25-page paper summarizing their findings, as well as a presentation of their research during the fall semester Family Weekend.